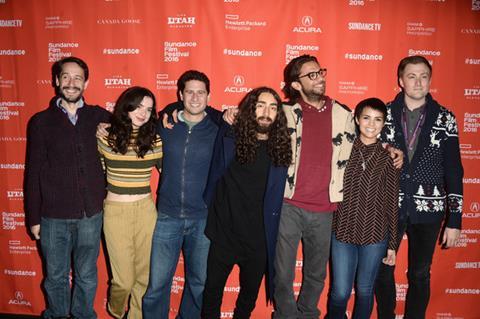 Sundance Institute top brass are bringing back the Creative Distribution Fellowship for its second year.
The Fellowship was launched by Sundance's Creative Distribution Initiative (formerly Artist Services), which has supported the release of more than 200 films, including Kerem Sanga's self-released First Girl I Loved.
The film premiered at the Sundance Film Festival in 2016 (where it won the audience award for Best of Next) and took an unconventional distribution route guided by the initiative, running on various digital platforms at different times, starting with a transactional VOD premiere on October 18, 2016
First Girl I Loved deployed digital marketing to increase awareness and interest, spending up to $35,000 on social media ads across mostly Facebook, as well as Instagram and Twitter in support of the release on iTunes, where the film played exclusively for two months before rolling out on the filmmakers' streaming partner of choice, Fullscreen.
Generating more than 40,000 'likes' on Facebook helped secure more than 800 pre-sales on iTunes, which in turn ensured strong 'placement' on the iTunes store.
According to a case study on the film's release issued by Sundance Institute, First Girl I Loved has earned roughly $140,000 net – mostly from iTunes and transactional VOD platforms – and has generated around $65,000 on Fullscreen before the sales agent's 10% cut.
After that, the next most profitable arena was international sales on an aggregated $40,000. The filmmakers struck a worldwide sales deal with Arcadia, who closed a string of individual deals in Australia, Scandinavia and Taiwan, and streaming deals in Latin America.
The filmmakers said they are approaching three times the best offer that came out of Sundance 2016 and have retained ownership of the film.
Producers and directors looking for a 2018 or early 2019 release for their finished works are encouraged to apply for support, provided they are open to foregoing a traditional distribution route.
The Fellowship is designed to support entrepreneurial producers and directors through grant funds, access to premium pre-negotiated distribution deals, and connections to a network of experienced industry mentors.
Films at all budget levels with distinctive voices will be considered, provided submissions are completed features; have premiered at a 2017 US film festival of at least five years standing or have been accepted to a 2018 US festival; are of US or Canadian origin and/or team heads are based in those countries; US rights are available; and submissions have not been exploited anywhere in the world.
Organisers will select three to four films on a rolling basis, and the films will be supported through their initial release period of six to 12 months.
Selected films receive a $25,000 grant for marketing expenses (with an emphasis on digital marketing), a five-figure streaming deal from Netflix, Amazon, or Hulu, Sundance Institute branding and promotion, and guidance from the Creative Distribution Initiative, among other benefits.
The Creative Distribution Fellowship is currently supporting two other titles in its pilot year, Columbus and the documentary Unrest.
To read the case study in full click here, and for further details about the application process click here.