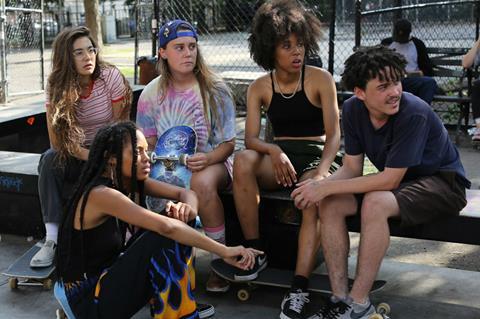 Crystal Moselle's Skate Kitchen, which premiered to good buzz at this year's Sundance Film Festival, has been picked up for UK distribution by Eve Gabereau's Modern Films.
The film, Moselle's follow-up to her Sundance Grand Jury Prize winning documentary The Wolfpack, is a narrative feature following a group of female skateboarders in New York City.
Gabereau struck the deal with Carole Baraton of French sales agent Charades. Magnolia Pictures previously took US rights.
The project is produced by RT Features (Call Me By Your Name) and Pulse Films (American Honey). The primary cast are an all-girl skate crew of unknown actors, and it co-stars Jaden Smith (The Karate Kid). The story was inspired by the crew's real-life Instagram feed.
Modern Films is lining up the UK release for early autumn 2018.
Gabereau says: "This film represents our core values of mashing up cultural cinema with commerciality through their edginess and directly identifiable audience(s), who we expect to respond and participate in the release campaign and beyond. Skate Kitchen is about girl power but crosses age groups, demographics and gender."
Former Soda Pictures head Gabereau officially launched Modern Films in January this year. The company's first pick-up was Nancy Buirski's documentary The Rape Of Recy Taylor and it also acquired Utoya massacre film U – July 22 in March following the film's Berlin Film Festival premiere.