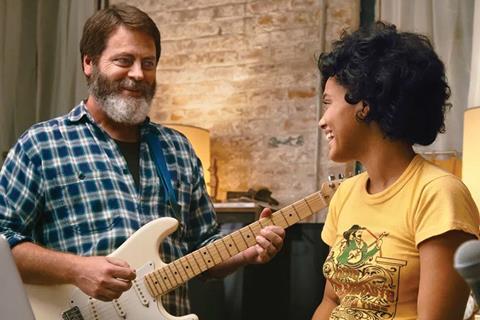 Sony Pictures Worldwide Acquisitions (SPWA) has swooped on all international rights to Brett Haley's Hearts Beat Loud following the special sneak volunteer screening in Park City on Thursday night (January 18).
North American buyers are circling the film, which gets it world premiere on Friday January 26. Nick Offerman and Kiersey Clemons star in the story of a has-been musician who owns a struggling record store in Brooklyn and forms an unlikely band with his daughter the summer before she is set to leave for university.
Haley and Marc Bash wrote the screenplay to Hearts Beat Loud, which co-stars Ted Danson, Sasha Lane, Blythe Danner and Toni Collette.
Houston King, Sam Bisbee and Sam Slater produced for Houston King Productions, Park Pictures and Burn Later Productions, respectively. Franklin Carson, Paul Bernon, David Bernon, Theodora Dunlap, Jackie Kelman Bisbee, Lance Acord, Danny Rifkin and Frank Brenner, Offerman served as executive producers.
Endeavor Content negotiated with SPWA on behalf of the filmmakers and the deal excludes North American rights.
In addition, Offerman and Clemons will perform the title song from the film at the Sundance Awards Ceremony on Saturday, January 27.