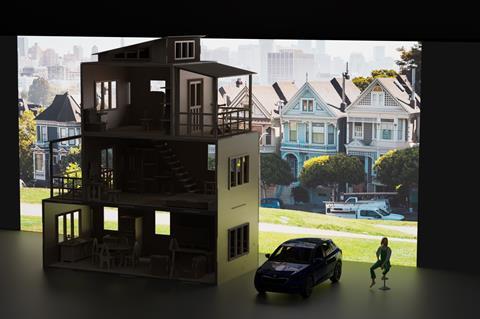 Sweden's Studio Fares is today launching what it says is Europe's largest projector-based virtual production wall, measuring 24m x 8m.
Based in Trollhättan, Studio Fares is already the second largest sound-stage in Scandinavia with an area of 1,100 sq m.
The studio says the new wall "makes it easy to project different sceneries on different parts of the wall and still be able to film in the studio on other set constructions."
"You don't need a lot of LED screens, nor server halls, which saves expensive electricity and therefore the climate. The wall is flat, not curved, and different parts of the wall can be used for filming. And the rest of the studio can easily be used for other set constructions. In total, this saves money, time and the climate," said Tyler Reid, who is in charge of regional infrastructure, virtual production and post production at Film i Väst, the region's production fund.
Mikael Fellenius, CEO of Film i Väst, added: "Through the wall we can create more jobs, technical development, higher competence and less travelling. We are very proud of The Wall and this opportunity to show it for all invited."
A delegation of industry attendees at the Goteborg Film Festival will attend the unveiling.
The wall is supplied by Behind The Wall and partners are DUPP Film, Film i Väst, Gothenborg Film Studios, Haymaker, Igelkott Väst, Klas Jansson Construction, Rasmus Eriksson Virtual Production Supervisor, Studio Skoog and Storyline.