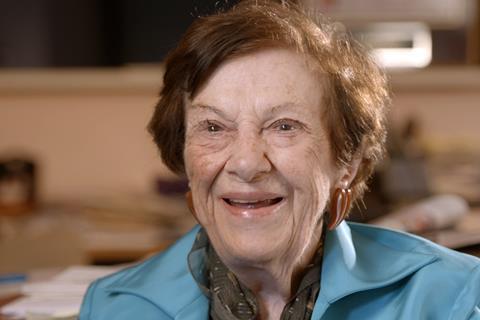 Toronto-based Syndicado Film Sales has picked up worldwide sales to Calendar Girl ahead of its world premiere at DOC NYC 2020 next month.
Christian D. Bruun wrote, directed and produced the documentary, which screens at the festival on November 11 and tells the story of Ruth Finley, who founded and ran the influential Fashion Calendar for more than 70 years.
With its iconic pink pages, the Fashion Calendar laid out every haute couture event in New York City, including New York Fashion Week. Finley retired in 2014 at the age of 95 and sold the Fashion Calendar to the Council of Fashion Designers of America.
Calendar Girl examines the momentous transition, and reflects on Finley's life, work, and legacy.
Designers Carolina Herrera, Thom Browne, and Nicole Miller, industry insiders Steven Kolb, Valerie Steele, and Eric Wilson, Finley's sons, and others are among the talking heads. Natalie Nudell wrote the screenplay.
"'The end of an era' is the film's recurring theme," said Bruun. "How could it not be? Ruth and the CFDA both cared deeply about the fast-changing business, and the transfer of the Calendar was a long-time-coming urgent solution to a problem affecting the entire industry, with no clear answers.
"The sale was difficult for Ruth, who had hoped to keep her business within the family. I wanted to show that her work had also inspired a new generation to define its own hopes, challenges, and solutions."
DOC NYC runs from November 11-19.