Syrian founders Orwa Nyrabia and Diana El Jeiroudi rebrand Berlin-based production company.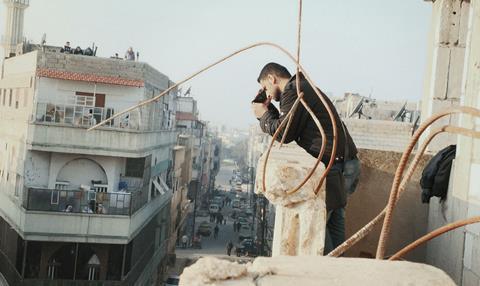 Berlin-based Syrian producers Orwa Nyrabia and Diana El Jeiroudi have rebranded their company Proaction Film as No Nation Films and unveiled two upcoming documentaries.
The new films on its slate include El Jeiroudi's Republic Of Silence, a personal account of growing up in Syria, and Five Seasons, an undercover work following the activities of four Syrian female revolutionaries.
The company name change comes amid a tumultuous five years for the producer and film-maker couple who fled their native Damascus in 2012 after Nyrabia fell foul of the Bashar al-Assad regime and was imprisoned briefly in the early days of the Syrian civil war.
After a stint in Cairo, they moved to Berlin in 2013, where they have been trying to re-build their lives and continue producing ever since, under the banner of Proaction Film which they created in Damascus in 2002.
Since moving to Berlin their production credits have included two films capturing life in the shattered city of Homs, Silvered Water, Syria Self-Portrait and Return to Homs [pictured], which won the Grand Jury Prize at Sundance in 2014, as well as The Mulberry House which premiered at IDFA in 2013.
The couple are changing their company's name from Proaction Film to No Nation Films after being informed that the word "proaction" is a registered trademark in Europe, where their activities are now based.
"After a first brief shock, this invited us to rethink the massive change that we, our work, and the world around us have experienced since 2002. So, filled with proactivity, we decided to take a step back and think about the spirit of our time, our position towards it, our new location, the story of how we got here and that obscure object that drives us into doing what we do," they said in a joint statement.
"We thought about the challenges and the pains of our most important partners the long distance runners, the ambitious and uncompromising filmmakers who cannot but make smart, brave and complex films, because the world needs that… and we felt grateful that we are part of an international family that stands up for its members, no matter when and where; a family that doesn't surrender to the status quo, but rather squeezes, challenges and reshapes it."
Project details
Aside from the name change it will be business as usual.
El Jeiroudi's theatrical documentary Republic Of Silence, which is in pre-production, is a co-production between No Nation Films and Paris-based Les Films d'Ici, which collaborated on Silvered Water and is also a partner on Italian Oscar contender Fire At Sea.
It is supported by Berlin Brandenburg Medienboard, German Ministry of Culture Film Fund, the Federal Film Board of Germany (FFA) and Salzgeber Editions, which has picked up theatrical rights for Germany. It is also one of the latest projects to receive a grant from the Doha Film Institute.
Undercover documentary Five Seasons, directed by a film-maker named simply as Maya, follows four young women from Damascus whose destinies change forever when they get involved in the Syrian uprising. As women, they have to carve their own place in the revolution and a society which still believes a woman's place is in the home.
Shot over three years, the film is in post-production and currently seeking a festival berth for 2017. It is supported by the Arab Fund for Arts and Culture, SANAD Abu Dhabi and IMS Denmark.
The moniker No Nation Films will come into effect as of Dec 31, 2016.