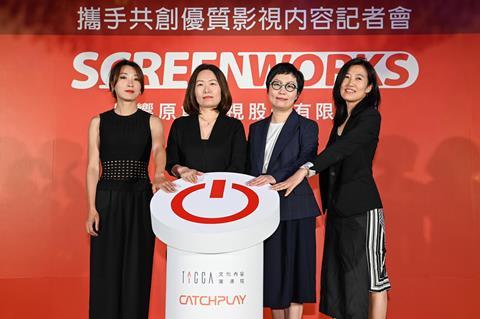 Taiwan Creative Content Agency (TAICCA) and Taiwanese distributor Catchplay are co-investing in a new venture, Screenworks Asia, to create Taiwanese content for international audiences.
According to a statement, the joint venture aims to increase the quantity and quality of Taiwanese film and TV content produced for international consumption, as well as "facilitate a platform for international collaboration, aiming to make Taiwan a powerhouse for Asian original content."
Screenworks Asia's first projects include a second season of hit Chinese-language drama series The Making Of An Ordinary Woman (2019), which Catchplay distributed on its streaming platform. It is also co-producing a 15-hour crime drama, Mystify In Dust, with Hong Kong's ViuTV, and Chi: The Method Of Breathing, directed by Yi Liu, a mini-series revolving around martial arts stories in a modern-day setting.
Principle photography for Mystify In Dust has already started this month in Taiwan, with a cast headed by three Golden Horse Award-winners.
TAICCA chairperson Ting Hsiao-Ching said: "TAICCA hopes to leverage Catchplay's international distribution channels and reverse long-standing trends by exporting Taiwan-produced films overseas."
Catchplay CEO Daphne Yang said: "We are used to playing by the rules of the international content industry to bring good international content to the Taiwanese audience. Now, it's time to leverage our experience from the international market to bring Taiwan's original works to the world."
Catchplay has distributed films such as La La Land, Green Book and Parasite in Taiwan, and also operates the Catchplay+ streaming service, which has six million users across Taiwan, Singapore and Indonesia. The company has also invested in US productions such as The Revenant, Assassin's Creed and Martin Scorsese's Silence, as well as co-producing 20 Once Again with Korea's CJ Entertainment.
Launched in June 2019, TAICCA collaborates with the Taiwanese government and private sector to promote the development of Taiwan's content industries, including film and TV, pop music, publishing, ACG (anime, comics & games), fashion, artworks and cultural technologies.
The agency is supervised by Taiwan's Ministry of Culture and utilises Taiwan's National Development Fund to invest in the creative industries. According to a statement, it aims to "fill in the industry gaps, systematically, constructing an ecosystem for films with Taiwan-related content".