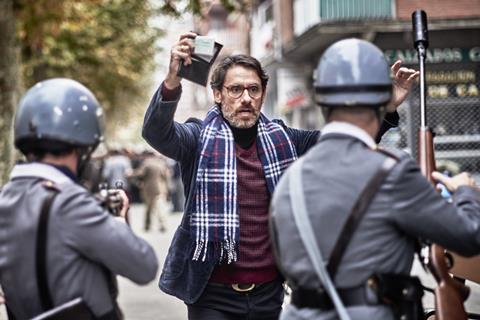 Estonia's Tallinn Black Nights Film Festival (November 16 – December 2) has added twelve titles to its First Feature Competition.
Among the new entries are Spanish director Victor Cabaco's A March To Remember, a 1976-set thriller following a radio journalist during a workers' strike in a provincial capital.
From India is Hello Arsi, chronicling the day in the life of two strangers who have met on a highway and go on to share a car ride and conversation. Director Sambit Mohanty passed away last year soon after shooting completed.
Eleven of the new titles are in competition, with David Victori's Spanish psychological thriller The Pact playing out of competition. It follows a mother, played by Belén Rueda, who participates in a dubious agreement to save the life of her comatose daughter.
Of the eleven in competition, six originate from Europe, two from Asia, two from the Americas and one from Africa.
The First Feature Competition will give out three awards – best film plus two special jury prizes for outstanding artistic achievements in a particular field. The jury will be announced next month ahead of the festival.
Last year's best film prize went to German production Thousand Kinds Of Rain from director Isabel Prahl.
First Feature Competition new titles
A March to Remember – dir. Víctor Cabaco (Spa)
As I Fall - Magnus Meyer Arnesen (Nor)
Catharsys Or The Afina Tales Of The Lost World - Yassine Marco Marroccu (Mor)
Cronofobia - Francesco Rizzi (Switz)
Head Above Water - Tatiana Margaux Bonhomme (Fr)
Hello Arsi - Sambit Mohanty (Ind)
Lonesome Collectors - Axel Muñoz Barba (Mex)
Lorik - Alexey Zlobin (Arm)
Roads in February - Katherine Jerkovic (Can, Uru)
The Song of the Tree - Aibek Daiyrbekov, (Kyr, Rus)
The Wild Fields - Yaroslav Lodygin (Ukr, Switz)
Out Of Competition
The Pact - David Victori (Sp)
Previously announced
Erased - Miha Mazzini (Slovenia, Cro, Serb)
Kejal - Nima Yar (Iran)
Lifeboat - Sofia Helin (Den, Cro, Swe)
Sasha Was Here - Ernestas Jankauskas (Lith, Fin)
Wasted Eggs - Ryo Kawasaki (Jap)
Why Don't You Just Die - Kirill Sokolov (Rus)
Yung - Henning Gronkowski (Ger)