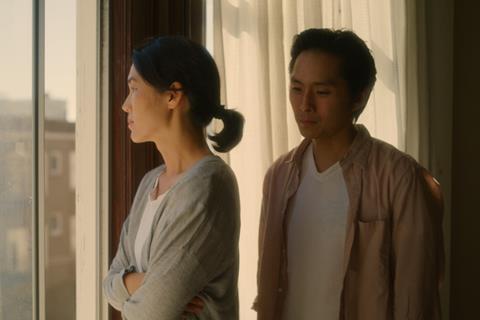 Estonia's Tallinn Black Nights Film Festival (Nov 15-Dec 1) has announced the first eight films for its official selection, the festival's main competition strand.
These include the European premiere of Wayne Wang's Coming Home Again and the world premieres of Liu Shu's Lost Lotus and Tom Sullivan's Monster.
The titles will compete for the Grand Prix for best film, which includes a grant of €10,000 shared by the director and producer, among other prizes for director, script, actor, actress, cinematographer and music.
Coming Home Again screened at Toronto and Busan and follows a young Korean-American who prepares a traditional dinner for his cancer-stricken mother, his father and sister, for what is to be the family's last New Year's Eve dinner. It marks Wang's 22nd feature having been Bafta-nominated for 1986's Dim Sum: A Little Bit of Heart and winning Berlin's Silver Bear for best director in 1995 for Smoke.
Lost Lotus marks the second film for writer-director Liu Shu after Lotus, which competed in the Venice Film Festival's Critics week in 2012. It centres on a young Chinese teacher who searches for the hit-and-run driver responsible for her mother's death.
Tom Sullivan's Monster is set in Ireland in 1845 and follows a fisherman who takes in a stranger at the behest of a local priest.
Films set for their international premieres in competition at Tallinn include Hüseyin Tabak's Gypsy Queen, Konstantin Lopushansky's Through Black Glass and Narges Abyar's When The Moon Was Full.
Having won the Black Nights sub-festival Sleepwalkers (now known as PÖFF Shorts) special mention award in 2008 with his short film Cheeese, German filmmaker Tabak returns to Tallinn with Gypsy Queen. Set in Hamburg, the film centres on a Roma woman and her two children who comes to realise realises her former profession - boxing - could be her only solution to their economic problems.
Russian auteur Lopushansky was previously at Black Nights in the Eurasia Competition with his 2013 film The Role, which won the best actor award for lead Aleksandr Efremov. He also plays a central role in Through Black Glass, as a Russian oligarch who pays for the eye surgery of a young nun in exchange for marriage.
Abyar is another filmmaker returning to Black Nights having won best director in 2016 with Breath, which was later selected as Iran's Foreign Language Oscar entry. Her latest film, When The Moon Was Full, centres on a woman from Teheran who marries a man from an Iranian province near the border of Pakistan. Soon after, she discovers that her new brother-in-law is a religious extremist trying to recruit her husband for his bloody cause.
Also in competition is Can Evrenol's Girl With No Mouth, which will receive its European premiere in Tallinn. Having screened at numerous genre festivals with his horror films Housewife and Baskin that premiered at Toronto, Turkish director Evrenol sets his new feature an apocalyptic near-future where parts of the world have been devastated by a great war while others are being ruled by ruthless militants who don't shy away from brutal experiments with children.
Also receiving its European premiere at Black Nights is Gutterbee, a satirical comedy that marks Ulrich Thomsen's second film as director. Set in small-town America, it follows two dreamers who join forces to launch the ultimate German sausage restaurant. Thomsen is perhaps best known as an actor, with roles in Thomas Vinterberg's Festen, Kathryn Bigelow's The Weight of Water and Ridley Scott's Kingdom of Heaven.
Official Selection
Coming Home Again - Wayne Wang (US-S Kor)
Girl With No Mouth - Can Evrenol (Turk)
Gutterbee - Ulrich Thomsen (Den)
Gypsy Queen - Hüseyin Tabak (Ger-Aust)
Lost Lotus - Liu Shu (Chi-Neth)
Monster - Tom Sullivan (Ire)
Through Black Glass - Konstantin Lopushansky (Rus)
When the Moon Was Full - Narges Abyar (Iran)
Earlier this week, the festival announced eight titles selected for the First Feature Competition. The best film prize comes with a €5,000 grant along with two special prizes for specific artistic achievements.
The full lineup of the 23rd Tallinn Black Nights will be announced on October 24.
First Feature Competition
A Dog's Death (La muerte de un perro) - Matías Ganz (Uru-Fra-Arg)
Dust and Ashes - Park Hee-kwon (S Kor)
Mother (Mater) - Jure Pavlović (Cro-Serb-Fra-Bos/Herz)
Looted - Rene Pannevis (UK)
Lorni - The Flaneur - Wanphrang Diengdoh (Ind)
Saul at Night - Cory Santilli (US)
The Names of the Flowers - Bahman Tavoosi (Bol-Qat-US-Can)
The Seeker (O Buscador) - Bernardo Barreto (Bra)