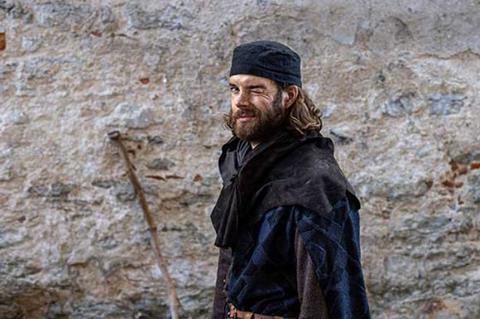 The projects selected for Tallinn Black Nights' industry showcase have been revealed, including a €3m adventure film set in medieval Estonia.
Scroll down for full list of projects
This year's Industry@Tallinn and Baltic Event will take place entirely online and will spotlight 18 films seeking sales agents or festivals for international premieres. The projects will be presented on November 24.
Both the Baltic Event, showcasing Baltic and Finnish projects, and International Works in Progress compete for the same awards: the Post Production Award worth €10,000 and the Baltic Event Works in Progress Award of €3,000. The winners will be announced at an awards ceremony on November 26.
The 18th Baltic Event Works in Progress will include eight projects from the Baltics and Finland.
Among them is €3m adventure feature Melchior The Apothecary, directed by Estonia's Elmo Nüganen, which takes place in medieval Tallinn and centres on a curious chemist who, in addition to healing the sick, solves murders that shake the town.
A second Estonian feature is sports drama Kalev, from director Ove Musting, which tells the story of the country's national basketball team and their unpopular decision to take part in the USSR's championships in the summer of 1990, with the Soviet Union on the verge of collapse.
The sixth International Works in Progress comprises seven projects and includes psychological drama The Anger, directed and produced by Maria Ivanova Z, which is a Lebanon-Germany co-production; and three projects from Russia as part of a focus on the country, which includes drama Nuuccha from first-time writer-director Vladimir Munkuev.
For a second time, the industry showcase will include Just Film Works in Progress, focusing on film projects for children and young people. This year will see four projects compete for a prize of €1,000 aimed at helping the film gain visibility by covering promotion and publicity costs.
Tallin Black Nights is going ahead as a mix of physical and online events this year, with screenings of its programme taking place but all industry activity taking place virtually. This week, the festival received a special permit from government organisations to bring in guests from around the world, despite the ongoing Covid-19 pandemic.
Baltic Event Works in Progress
Kalev (Est)
Dir. Ove Musting
Melchior The Apothecary (Est-Lat-Get)
Dir. Elmo Nüganen
Lovable (Lat-Est)
Dir. Staņislavs Tokalovs
Neon Spring (Lat)
Dir. Matīss Kaža
I Am Fine, Thanks (Lith)
Dir. Ernestas Jankauskas
Feature Film About Life (Lith)
Dir. Dovilė Šarutytė
A Girl's Room (Fin-Ger)
Dir. Aino Suni
International Works in Progress
Carol of the Bells (Ukr-Pol)
Dir. Olesya Morgunets-Isaenko
Ducks, Urban Legend (Isr)
Dir. Shahar Rozen
The Anger (Leb-Ger)
Dir. Maria Ivanova Z
Nuuccha (Rus)
Dir. Vladimir Munkuev
First Snow (Rus)
Dir. Nathalia Konchalovsky
Zemun (Rus)
Dir. Eduard Zholnin
A Film About Couples (Dom Rep)
Dirs. Natalia Cabral, Oriol Estrada
Just Film Works in Progress
A Butterfly's Heart (Lith)
Dir. Inesa Kurklietytė
The Sleeping Beast (Est-Lat)
Dir. Jaak Kilmi
This Is My Moment (Bel-Neth-Fr)
Dir. Lieven Corthouts
New Wonder (Rus)
Dir. Alexandra Strelyanaya