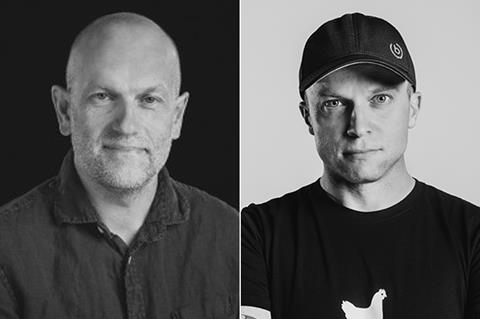 New projects from leading Estonian production firms Tallifornia and Allfilm are among the 20 titles selected for Tallinn Black Nights' Works in Progress strand.
The 20 projects are split across three strands: eight in the Baltic Event section for titles from the region; six in the International section; and six in the Just Film strand, for emerging filmmakers.
Scroll down for the full list
Tallifornia has two productions in the Baltic Event section: Free Money, written, directed and produced by Rain Rannu; and Miguel Llanso's Infinite Summer. Both titles are produced by Tonu Hiielaid for Tallifornia, which has previously made films including 2020 Black Nights selection Kratt, and is in post-production on Tanel Toom's Last Sentinel.
Allfilm is presenting Estonian-Finnish co-production 8 Views Of Lake Biwa, directed by Marko Raat. Producers are Ivo Felt and Dora Nedeczky, with Finland's Bufo operating alongside Allfilm as production company. Having shot earlier this year, the film is a magical-realist ensemble tragedy, loosely based on Max Dauthendey's 1911 novel of the same name.
Titles in the International section include the first fiction feature from Czech documentarian Petr Slavik, titled Waltzing Matilda. The film is a tragicomedy about an emotionally-distant son who must handle his octogenarian opera singer mother's worsening Alzheimer's disease. Natasa Slavikova produces for Czech company Phoenix Production, with Vit Janacek for Slovakia's VIRUSfilm.
The jury for the Baltic Event and International sections consists of festivals consultant Ariane Buhl, Beta Cinema evp acquisitions Thorsten Ritter, and festival programmer Andrei Tanasescu.
Two of the International titles – In The Belly Of The Tiger and 20,000 Species Of Bees – previously participated in the Script Pool that is part of the Industry@Tallinn platform for film professionals.
Titles in the Just Film section include German director Anika Matzke's Jonja, and Raw Material, the fiction feature debut of Hungary's Martin Boross. The Just Film jurors are Nicola Jones, head of the Children's Media Foundation, Margreet Cornelius, senior project leader at Network Film Education, and director Jaak Kilmi.
Projects will be presented from November 22-24, in the Coca-Cola Plaza cinema hall and online; the full Industry@Tallinn & Baltic Event runs from November 20-25
Industry@Tallinn Works in Progress 2022 titles
Baltic Event
8 Views Of Lake Biwa (Est-Fin) dir. Marko Raat; prods. Ivo Felt, Dora Nedeczky, for Allfilm, Bufo
Anna LOL (Lat) dir. Ivars Tontegode; prod. Guna Stahovska, for Mojo Raiser Production, SIA KMVKP
Black Velvet (Lat-Lith) dir. Liene Linde; prod. Guntis Trekteris, for Ego Media
Death Is A Problem For The Living (Fin) dir. Teemu Nikki; prod. Jani Poso
Free Money (Est) dir. Rain Rannu; prods. Tonu Hiielaid, Rain Rannu for Tallifornia
Infinite Summer (Est) dir. Miguel Llanso; prod. Tonu Hiielaid for Tallifornia
Life Interrupted (Lat-Lith) dir. Ilze Kunga-Melgaile; prods. Aija Berzina, Marija Razgute for Tasse Film
Lotus (Lat-Lith) dir. Signe Birkova, prods. Dominiks Jarmakovics, Roberts Viniovskis
International
The Ballad Of A Hustler (US-Braz) dir. Heitor Dhalia; prod. Bernardo Barreto for Berny Films
Ruth (Isr) dir. Esty Shushan; prods. David Silber, Sivan Cohen for Metro Communications
Waltzing Matilda (Cze-Slovakia) dir. Petr Slavik; prods. Natasa Slavikova, Vit Janacek for Phoenix Production, VIRUSfilm
In The Belly Of A Tiger (India-China-US-Fr-Tai) dir. Siddhartha Jatla; prods. Patrick Mau Huang, Sarada Uma, Bhavana Goparaju, Esther Lee for Jatla Pictures
The Fisherman's Daughter (P Rico-Col-Braz) dir. Edgar De Luque; prod. Annabelle Mullen Pacheco for Belle Films
20,000 Species Of Bees (Sp) dir. Estibaliz Urresola; prods. Lara Izagirre, Valerie Delpierre for Gariza Films, Inicia Films
Just Film
Jonja (Ger) dir. Anika Matzke; prods. Norman Bernien, Christoph Holthof, Daniel Reich for kurhaus production
Snot and Splash (Fin) dir. Teemu Nikki; prods. Jani Poso, Ari Matikainen for It's Alive Films
Empire Of The Rabbits (Tur-Mex-Leb-Fr) dir. Seyfettin Tokmak; prod. Zeynep Koray for ZKF
Government of Children (Rom) dir. Ioana Mischie; prod Irina Petrescu for Studioset Production
Kissing Bug (Arg-Braz) dir. Luis Zorraquin; prods. Esteban Lucangioli, Bruno Autran for Pelicano Cine, Labuta Filmes
Raw Material (Hun) dir. Martin Boross; prod. Gabor Osvath for Filmfabriq