COMIC-CON: Quentin Tarantino hinted at a possible move into television as he riffed on one of his bête noires – digital filmmaking – during Saturday's The Hateful Eight panel.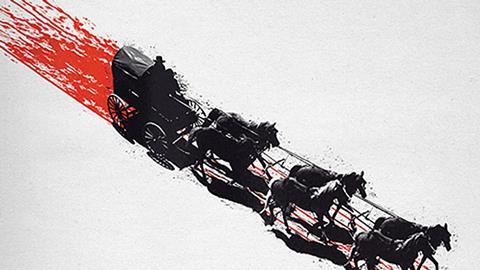 The remarks came during an audience Q&A after the writer-director had danced around previous reports that he would quit directing after ten films.
"I quite like the idea of ten and done," he said, adding that he tended to make three films every decade and might hang up his boots after 15. "I do like the idea of getting out and leaving you wanting a little bit more."
Tarantino returned to the theme of digital filmmaking, a subject that stirs his passions as much as anything else and partly informed a long recorded segment at the start of the panel in which he extolled the virtues of 70mm projection.
"It's just [becoming] HBO in public," he said during the Q&A. "If that's what movies become then I can move to television. Maybe it's ten movies or maybe I have three mini-series in my future."
The filmmaker also revealed that Ennio Morricone was preparing to start work in Prague on an original score for The Hateful Eight – Morricone's first orignal Western score in 40 years. This will mark the first original score for a Tarantino film.
The writer-director also teased the idea of a third Kill Bill film after he was baited by another question from the floor about the future of The Bride character portrayed by Uma Thurman.
"Never say never. We will see. Uma would really like to do it. We talk about it once in a while."
On the infamous leak of the script to The Hateful Eight, he had this to say: "There were certain plot threads I wasn't quite ready to tie up yet and I knew I had a couple of drafts to go, so that's why I was a little disconcerted about that."
The filmmaker showed footage from his new Western, in which eight dangerous characters reveal their true motivations after they become stranded in a tavern during a blizzard.
Most of the cast except Samuel L Jackson took to the stage to promote the film: Kurt Russell, Tim Roth, Jennifer Jason Leigh, Demian Bechir, Michael Madsen, Walton Goggins and Bruce Dern.
Madsen described Tarantino as "the best director on the planet", while Russell said the opportunity to collaborate him was "a circus you want to be a part of."
The December 25 release will go out on a two-week 70mm US roadshow in select theatres via The Weinstein Company ahead of conventional theatrical roll-out on January 8, 2016. International territories will follow in early 2016.