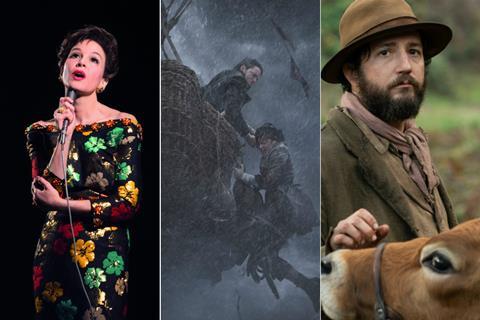 World premieres of Rupert Goold's Judy, Tom Harper'sThe Aeronauts and Kelly Reichardt's First Cow lead the programme of the 46th Telluride Film Festival, which starts on Friday (30).
Fourteen of the 30 titles announced for the festival's central 'Show' programme are world premieres, and five are directed by women.
Also launching at the festival are James Mangold's car-racing drama Ford v Ferrari starring Christian Bale and Matt Damon; Edward Norton's 1950s New York noir film Motherless Brooklyn; and Uncut Gems, a crime comedy from Good Time directors Benny and Josh Safdie.
The section will also launch the world premiere of Inside Bill's Brain, Davis Guggenheim's documentary series about businessman Bill Gates.
Elsewhere in the main programme is the launch of acclaimed documentarian Ken Burns' new mini-series, Country Music.
Judy star Renée Zellweger is among the guests confirmed to attend the event and will accept the Silver Medallion award for significant contribution to the world of cinema.
Further Silver Medallion awardees this year are Adam Driver, who appears in Marriage Story and The Report at the festival, and filmmaker Philip Kaufman.
The full programme includes more than 75 features, shorts, and repertory titles, from 27 countries.
Telluride 2019 'Show' programme
The Aeronauts (UK) – world premiere
Dir: Tom Harper
The Assistant (US) – world premiere
Dir: Kitty Green
The Australian Dream (Aus)
Dir: Daniel Gordon
Beanpole (Rus)
Dir: Kantemir Balagov
The Climb (US)
Michael Angelo Covino
Coup 53 (UK) – world premiere
Taghi Amirani
Diego Maradona (UK)
Asif Kapadia
Family Romance, Llc (US-Jap)
Werner Herzog
First Cow (US) – world premiere
Kelly Reichardt
Ford V Ferrari (US) – World Premiere
James Mangold
Judy (UK-US) – world premiere
Rupert Goold
A Hidden Life (US-Ger)
Terrence Malick
The Human Factor (UK) – world premiere
Dror Moreh
Inside Bill's Brain (US) – TV, world premiere
Davis Guggenheim
The Kingmaker (US)
Lauren Greenfield
Lyrebird (US) – world premiere
Dan Friedkin
Marriage Story (US)
Noah Baumbach
Motherless Brooklyn (US) – world premiere
Edward Norton
Oliver Sacks: His Own Life (US)
Ric Burns
Pain And Glory (Sp)
Pedro Almodóvar
Parasite (S. Kor)
Bong Joon-Ho
Portrait Of A Lady On Fire (Fr)
Céline Sciamma
The Report (US)
Scott Z. Burns
Tell Me Who I Am (UK) – world premiere
Ed Perkins
Those Who Remained (Hun) – world premiere
Barnabás Toth
The Two Popes (UK) – world premiere
Fernando Meirelles
Uncut Gems (US) – World Premiere
Josh Safdie, Benny Safdie
Varda By Agnès (Fr)
Agnès Varda
Verdict (Phil)
Raymond Ribay Gutierrez
Waves (US) – world premiere
Trey Edward Schultz.
Click here for the full programme.