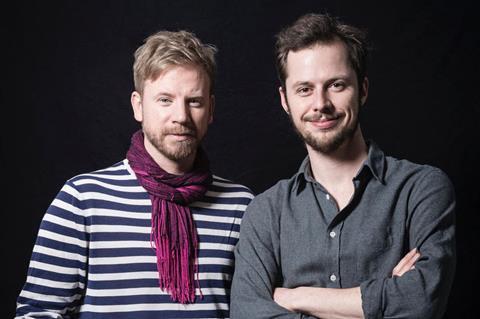 Axel Danielson and Maximilien Van Aertryck, directors of the short film hit Ten Meter Tower, are unveiling plans for their first joint feature film, Broadcast, at CPH:DOX's FORUM this week.
Danielson and Van Aertryck, who are collaborators at Ruben Ostlund and Erik Hemmendorff's Plattform Produktion in Sweden, will look at the camera's power and influence on human behaviour.
Broadcast will be a unique documentary project using lots of raw archive footage yet aiming to be "a completely cinematic experience."
The film will look at situations where the presence of a camera affects an individual's behaviour. Such footage will be drawn from news broadcasts, talk shows, sporting events and social media streams.
Broadcast is being set up as a Sweden-US-Denmark-France co-production. At CPH:DOX they are looking for broadcast pre-sales, potential sales companies and distributors.
Los Angeles-based Kathleen McInnis, well known as a festival programmer and strategist, has joined the project as a co-producer.
Marie Dubas from Deuxième Ligne Films in France is also on board as a co-producer, as are Vibeke Vogel and Rikke Tambo Andersen from Denmark's Bullitt Film. Filmmaker Ruben Östlund will serve as creative consultant.
Inspirations
Danielson said the idea for Broadcast came about when the pair were making their 2016 short film Because The World Never Stops, which uses raw footage of news anchors working behind the scenes at Swedish channel SVT. He said, "Seeing programme anchors slipping in and out of their formatted roles felt very liberating and just in tune with our artistic expression. The idea grew when we started looking for similar behind-the-scenes situations outside of the TV studios."
Van Aertryck adds, "The exponential rise of the camera in recent years has increased self-representation and sparked an autobiographical instinct, as a result humans are paying more attention to how they present themselves. In Broadcast we will, in different ways, break the facade of a culture where we all are the product, exposing its conventions and consequences."
The feature will share similar interests as their shorts. For instance in Ten Meter Tower, a festival hit that was later viewed by millions of people on the New York Times Op-Docs platform, people at a public pool decided whether to jump off a high tower or climb back down (all the while mindful they were in front of a camera).
"All our films play out in the intersection between human nature and culture. We aim to observe humans and their behaviour from a distance, almost as if they are another species. By taking this step back we create a buffer that allows the audience to find humour and laugh as they recognize themselves," Danielson said.
He continued, "The creative challenge in Broadcast is one of curating and assembling from a large archive, to bring clarity in the worldwide phenomenon of boundless self-reflection."
Danish editor Nils Pagh Andersen is in talks to join the project – "We trust his judgment to avoid both voyeurism and sentimentality," says Van Aertryck; other key crew includes sound designer Anne Gry Friis Kristensen, and production researcher Henrik Moltke (Citizenfour).
With such a wealth of possible material, Danielson says, "We are dissecting situations that would not have existed without the presence of a camera…There are for example the "swatting" hoaxes in the live-streaming world; the "roofers" who illegally climb skyscrapers in search of the perfect selfie; cases of mistaken identity on live television; children discovering their reflection for the first time, and what we call 'tabloid martyrs,' young men who produce villainous monologues before committing mass shootings."
McInnis, whose production credits include Sweet Crude and Retablo, met the directors on the festival circuit and programmed Because The World Never Stops at Toronto 2016, and she later welcomed them as producers to the Works In Progress platform she runs at Seattle International Film Festival. She said of the directors, "The way their creative brains work is fascinating, and I've seen the appeal their visual storytelling has to global audiences."
She continues, "Their visual storytelling style reaches its audience with humour of course, but also with great pathos and emotional veracity. Their ability to connect so deeply with the human condition may, at first, be surprising to some considering their distance-based, observational filmic style but makes perfect sense once you get to be involved in their creative work flow."
The film is expected to be delivered in mid or late 2020.
For the full list of CPH:FORUM projects, read more here.