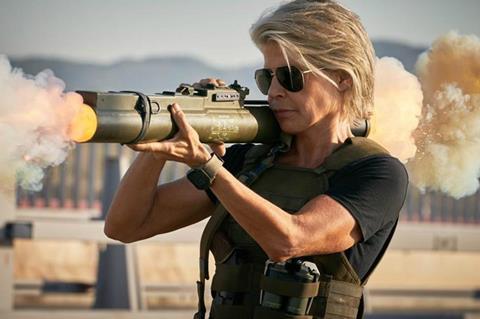 NOVEMBER 11 UPDATE: Terminator: Dark Fate was the top Hollywood release at the weekend as an estimated $29.9m propelled it past the $150m international box office mark and $40.7m drove the global tally to the cusp of $200m, while Joker continued its march towards the $1bn global mark.
Maleficent: Mistress Of Evil climbed to $430m worldwide, and Midway launched on $23.2m through AGC Studios licensees.
WALT DISNEY STUDIOS MOTION PICTURES INTERNATIONAL
Terminator: Dark Fate grossed $29.9m from 53 material territories for $150.9m and stands at $199.4m worldwide. The sci-fi thriller opened as the top Western title in Japan on $4.5m and stands at $6m including Friday's gross. China is the top market on $45m after 10 days through Tencent, while South Korea has produced $14.9m, and the UK $8.3m.
Maleficent: Mistress Of Evil has reached $430m worldwide to rank as the third Disney live-action film and the sixth Walt Disney Studios film to cross $400m this year, and ranks among the top 15 films of the year globally. The Angelina Jolie fantasy adventure sequel brought in $19.9m internationally from 57 material territories to stand at $333m. Europe has generated $145m, Asia-Pacific $126m, and Latin America $62m.
The film has passed the lifetime total of the 2014 original in China, the top market on $48.4m, France on $17.5m, South Korea on $10.3m, Russia on $31.6m, Philippines on $8.8m, and Indonesia on $10.3m, as well as Thailand, Netherlands, Malaysia, Argentina, Poland and India. The UK has generated $16.8m.
AGC STUDIOS
UPDATED: Roland Emmerich's Midway earned an estimated $23.2m through AGC Studios licensees led by a $15.7m debut through Bona in China for the independently financed wartime action drama. France delivered $1m through Metropolitan, the UK $965,188 through Lionsgate, and the Middle East $906,738 through Salim Ramia. Combined with the $17.1m number one North America debut through Lionsgate, the film has raced to $40.3m after its first weekend.
CHINA UPDATE
Chinese hit Better Days crossed $200m worldwide after $21.1m sessions boosted the running total to $202.3m. Derek Tsang directed and Goodfellas Pictures and Fat Kids Production produced the story of a bullied school girl and her relationship with a tough street kid, with whom she is implicated in the murder of a teenage girl.
WARNER BROS PICTURES INTERNATIONAL
UPDATED: Joker continued its march towards the $1bn global box office mark, earning $21.4m from 79 international markets to land at a muscular $673m, and $986.5m worldwide.
France generated $2.8m for $40.3m after five sessions, Germany $2.1m for $35.8m after five, and top market the UK $2.2m for $67.8m after six. After six weekends, Japan has produced $40.9m, Spain $29.4m, Brazil $35.1m, Italy $31.4m, and Australia $25.3m. Mexico has generated $42.7m.
Horror Doctor Sleep adapted from the Stephen King sequel novel to The Shining brought in $12.5m from 68 markets as the early running total climbed to $19.5m, and worldwide leapt to $33.6m. The film opened at number two in Russia on $2.1m and arrived at number two in Mexico on $1.4m. In other debuts, Brazil delivered $577,000, Australia $556,000, and South Korea $353,000.
Doctor Sleep coaxed a further $677,000 out of UK audiences to reach $3.3m after two weekends, and staying with the second session France delivered $409,000 for $1.5m, Italy $297,000 for $1.8m, and Spain $301,000 for $1.3m. It: Chapter Two stands at $251.1m internationally, and $462.5m globally. In the second session Japan generated $2.3m for $8.2m. The UK remains the lead market on $23.1m.
Drama The Good Liar starring Ian McKellen and Helen Mirren launched in the UK on $1.2m and goes out in Russia this week.
UNIVERSAL PICTURES INTERNATIONAL
UPDATED: The Addams Family brought in $10.9m from 38 territories to reach $52.4m ($64.1m through all distributors), and $155.5m worldwide. The family animation debuted in six markets led by South Korea on $1.5m. Russia delivered the top holdover on $2.2m for $10.8m after two weekends, followed by the UK on $1.3m for $10.5m after three, and Brazil on $1.1m for $3.1m after two. Mexico has generated $6.9m after three, Spain $5.5m after three, and Germany $3.2m after three.
A $4.1m session for Abominable from DreamWorks Animation and Pearl Studio elevated the international running total to $92.9m, as worldwide box office reached $167.3m. The family title has delivered $10.6m in France after three weekends, $9.3m in the UK after five, and $5.2m in Spain after five. Emilia Clarke rom-com Last Christmas opened in 10 markets for $3.1m, with the bulk coming from a $1.5m number one debit in Australia.
SONY PICTURES RELEASING INTERNATIONAL
Columbia Pictures' R-rated comedy-horror Zombieland: Double Tap grossed $5.1m from 49 markets to push the international tally to $35.3m and surpass the lifetime total of Zombieland. It opened in Germany on $1.4m including previews.
PARAMOUNT PICTURES INTERNATIONAL
Family comedy Playing With Fire opened in its first 10 markets and brought in $2.5m, led by a $1.1m number four debut in Mexico, $300,000 at number four in UAE, $129,000 at number five in Colombia, and $94,000 at number six in Vietnam. Ang Lee's Gemini Man added $1.8m from 50 for $119.5m, of which $32.3m comes from China after four weekends. The sci-fi thriller has grossed $3.9m in Taiwan after three sessions, and $4.6m in Japan after three.
STX INTERNATIONAL
Hustlers opened in two markets, earning $1.8m at number one in Italy, and $735,000 at number four in Spain. The estimated international weekend total amounted to $3.5m for a $40.3m running total.