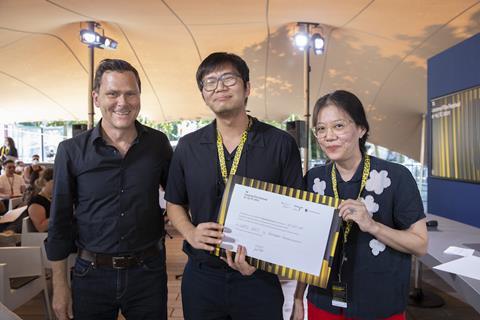 Projects from Indonesia, Mongolia, Myanmar, and the Philippines were among the winners of the 19th edition of Locarno's Open Doors section which has concluded its three-year focus on Southeast Asia and Mongolia.
Prizes were given to projects from the Open Doors Hub and Lab at the awards ceremony on Tuesday morning (August 10).
The Open Doors Award for Hub projects worth 35,000 CHF (£27,384) went to the comedy- thriller A Useful Ghost by Thai director Ratchapoom Boonbunchachoke and his producer Cattleya Paosrijaroen of Bangkok-based 185 Films.
An Open Doors Award development grant to the value of 10,000 CHF (£7,823) was presented to the Indonesian project Our Son by Luhki Herwanayogi and his producer Iqbal Hamdan of Catchlight Pictures.
This year's CNC development grant of €8,000 (£6,766) went to Myanmar filmmaker Sein Lyan Tun for his feature debut project The Beer Girl In Yangon, which already has production partners onboard from the Philippines and Indonesia. The project also received an Open Doors Award development grant worth 10,000 CHF (£7,823).
Speaking during the awards ceremony, CNC's Magalie Armand revealed seven projects from the current Open Doors focus - two each from Vietnam and Malaysia, and one each from Indonesia, Mongolia and Myanmar - had been supported by CNC's Aide aux Cinemas du Monde fund in the last two years.
Thai director Sompot Chidgasompongse and his producer Kissada Kamyoung were presented with ARTE Kino International's €6,000 (£5,075) prize for his debut fictional feature 9 Temples To Heaven. The film's production company Kick the Machine Films was launched by Apichatpong Weerasethakul in 1999 and Chidgasompongse has previously worked with him as assistant director on several of his films.
The Sørfond Award - consisting of an opportunity to attend Sørfond's forthcoming Pitching from the South platform in Norway this November - was awarded to SAM by Filipina director E Del Mundo and her producer Pamela Reyes of Manila-based Create Cinema. They also received an Open Doors Award development grant worth CHF 15,000 (£11,738).
Two new producers grants for participants in the Open Doors Lab were selected by a jury composed of Open Doors community coordinator Zsuzsi Bankuti and producer Christopher Granier-Deferre.
The first one - worth CHF 15,000 in total - went to the Vietnamese woman producer Xuan Trang Nguyen Thi of Ho Chi Minh City-based Lagi Limited, worth 15,000 CHF (£11,738). A second prize worth CHF 5,000 (£3,912) was awarded to Cambodian screenwriter, director and freelance producer Ines Sothea.
The prize money of both producer grants is intended to be spent on training programmes, travelling expenses, career development and personal coaching.
Mongolian producer-director Bat-Amgalan Lkhagvajav of Media Crackers LLC received the Moulin d'Ande CECI screenwriting residency in Normandy to work on the development of a new film project. This year's Rotterdam Lab Award was presented to Malaysian producer Benji Kim of Petaling Jaya-based Kinovisuals, allowing Kim to participate in the Rotterdam Lab 2022 training workshop with a delegation of emerging producers on the international scene to work on the company's first feature Hungry Ghost Diner.
Eight feature film projects in development seeking international co-production partners had been selected to participate in the Open Doors Hub co-production platform, while nine creative producers from the region were invited to attend the Open Doors Lab training programme this year.