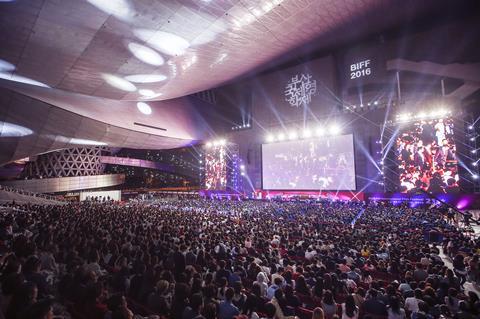 South Korea's Busan International Film Festival (BIFF) has confirmed a 26-title line-up for the 2021 Asian Project Market (APM).
Projects at the APM include Siren Vanishes, directed by Harumoto Yojiro, whose feature A Balance won the New Currents Award at BIFF last year before going on to the Berlinale this year.
The 26 projects from 15 different countries also includes titles from House Of Hummingbird director Kim Bora, The Mirror Never Lies director Kamila Andini, and Twilight's Kiss (Suk Suk) director Ray Yeung.
Organisers announced APM received a record-breaking 429 film submissions this year, up approximately 20% from 2020, which held the previous record.
APM will run October 12-14 as a hybrid event – offline for domestic participants and online for those international participants unable to attend the event due to the COVID-19 pandemic.
APM 2021 titles
Before, Now & Then (Indonesia)
Dir: Kamila Andini
Prods: Ifa Isfansyah, Gita Fara
Christmas Carol (S Kor)
Dir: Kim Sungsoo
Prod: Suh Youngjoo
Elephants In The Fog (Nep)
Dir: Abinash Bikram Shah
Prod: Anup Poudel
Event Agency (Kaz)
Dir: Yerlan Nurmukhambetov
Prod: Julia Kim
Familiar Strangers (Iran-Cze)
Dir: Mohammad Ali Talebi
Prod: Shohreh Golparian
Fixed Love, Fixed Girl (S Kor)
Dir: Lim Sun-ae
Prod: Park Kwansu
Hallucination (S Kor-US)
Dir: Lee Choonghyun
Prod: Kim Dongha
Happy Endings (Phil)
Dir: Sigrid Andrea Bernardo
Prod: Armi Rae Cacanindin
If Wood Could Cry, It Would Cry Blood (Viet)
Dir: Nguyen Phan Linh Dan
Prod: Ngo Thi Bich Hanh
Jaut's Mission (Malaysia-Jap-S Kor-Tai-Can-Ger-Fr-Nor)
Dir: Leonard Tee
Prods: Teng Lee Yein, CK Joey Lee
Kurak (Kyrg)
Dir: Erke Dzhumakmatova, Emil Atageldiev
Prod: Erke Dzhumakmatova
Lives of Crime (Tai)
Dirs: Hsieh Pei-Ju, Yang Chieh, Huang Dan-Chi, Lee I-Hui
Prods: Estela Valdivieso Chen, Hazel Wu
Memento Mori: Water (Viet)
Dir: Vu Marcus Manh Cuong
Prods: Nguyen Hoang Diep, Nguyen Trinh Hoan
A Miracle of Love (India)
Dir: Jiju Antony
Prods: Shaji Mathew, Aruna Mathew
Nene (Geo)
Dir: Mariam Khatchvani
Prod: Vladimer Katcharava
Revival Song (S Kor)
Dir: Lee Jong-eon
Prod: Seo Young-hee
Riding On The Moon Boat (India)
Dir: Triparna Banerjee
Prods: Shivajee Chandrabhushan, Dan Kyoko
Secret Of My Father (S Kor)
Dir: Jéro Yun
Prod: Mo Sung-Jin
The Silence Of Birds (Nep-US)
Dir: Nani Sahra Walker
Prod. Zoe Sua Cho
Siren Vanishes (Jap)
Dir: Harumoto Yujiro
Prod: Ichiyama Shozo
Sisyphus (China-US-S Kor)
Dir: Wang Xixi
Prod: Xiong Meng
Spectrum (S Kor)
Dir: Kim Bora
Prod: Byun Seungmin
Tale Of The Land (Indonesia)
Dir: Loeloe Hendra
Prod: Yulia Evina Bhara
Today… Tomorrow… (HK)
Dir: Ray Yeung
Prods: Michael J. Werner, Teresa Kwon
Where Would You Like To Go? (S Kor)
Dir: Kim Hee-Jung
Prod: Yoo Byung-ok
Young-dong Market (S Kor)
Dir: Lee Hwan
Prods: Min Kyungchan, Yong Sukju