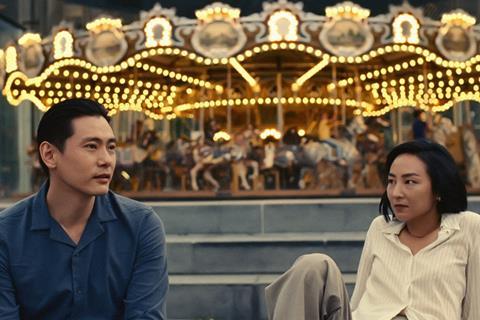 Bangkok-based GDH 559 has acquired Celine Song's Past Lives from A24, which it will release theatrically in Thailand as its first non-Thai film.
GDH is expanding into the theatrical distribution of international features through new business unit Out Of The Box. The US romantic drama, which proved one of the most critically lauded selections at this year's Sundance and Berlinale, will be released in Thai cinemas on July 6.
The Korean and English-language drama centres on childhood friends who reunite in New York two decades after one family emigrated from South Korea. This week, the film scored the second highest limited release of the year to date in North America and is likely to be a strong awards season contender later in the year.
It is a strong first non-Thai title for GDH, which plans to acquire three to four films per year. The budget and scale of the acquisitions may vary as the company is not limiting itself to arthouse titles alone.
Jina Osothsilp, CEO of GDH 559, said: "We will be acquiring refreshing films of various genres for Thai audience under the new business label. The aim is to create excitement in the Thai film industry. We also hope it will help bring people back to the cinemas in post-pandemic times. Another two to three films that we will be distributing are in the process of negotiation."
GDH has more than 20 years of experience in theatrical distribution in Thailand. As a well-known Thai producer, it distributes its own films locally and handles their international sales.
GDH is also the Thai distributor of One For The Road, produced by Hong Kong auteur Wong Kar Wai and directed by Baz Poonpiriya of box office success Bad Genius. It is not the producer or investor of this film, which is set mostly in Thailand with the majority of the dialogue in Thai
Out Of The Box was named by producer Jira Maligool, a key figure at GDH whose credits include hits such as Bad Genius, Friend Zone and Love Destiny: The Movie. The new unit is headed by GDH director of sales and international business Songpol Wongkondee.