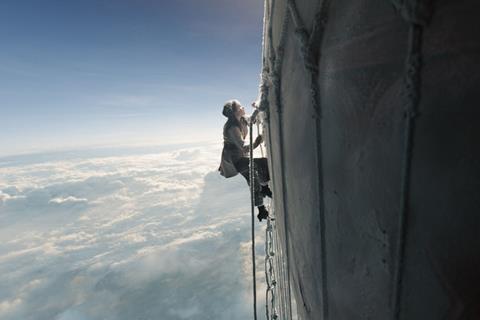 Tom Harper's The Aeronauts, which debuted to strong reviews at Telluride this week, will receive a full, 16-week theatrical window for its UK release, despite Amazon's decision to condense the film's cinema run in all other territories.
Entertainment One pre-bought UK and Ireland rights at an early stage on the title, and confirmed to Screen that it never intended to deviate from rolling out the film widely, with a full window.
That's despite the news which broke last month that Amazon was realigning its strategy on The Aeronauts, and other titles, to condense theatrical windows considerably ahead of their launch on Prime. In the US, the film will now enter cinemas on December 6 before launching online two weeks later on December 20.
In the UK, the film will enter cinemas on November 6, meaning its home entertainment release, including the Amazon Prime platform, won't be possible until 2020, with February 28 the earliest date.
The release strategy will allow the title to play in the country's multiplexes, which all enforce a strict windowing policy.
Amazon, along with sales outfit FilmNation, is still in discussions with further international distributors about their release strategies, but it is understood that the US model is likely to be replicated elsewhere.
The UK exception comes down to the film's theatrical potential in the country. The cast is led by popular Brit actors Felicity Jones and Eddie Redmayne, who previously struck box office gold in the UK as the leads in Stephen Hawking story The Theory Of Everything, which took $32m in the territory.The Aeronauts story is also loosely inspired by the true story of British aeronauts James Glaisher (Redmayne in the film) and Henry Coxwell (whose character has been replaced by Jones' Amelia Rennes).
While Amazon is widely realigning its distribution strategy to put more emphasis on Prime, the streamer saw the theatrical prospects in the UK for the title and as a result was happy for eOne to progress with a traditional distribution model.
Tom Harper (Wild Rose) directed the story of a pilot and scientist who find themselves in a battle for survival after attempting to make discoveries in a hot air balloon. Amazon financed and produced the project with US outfit Mandeville Films.
The film screens at Toronto on Sunday (Sept 8).