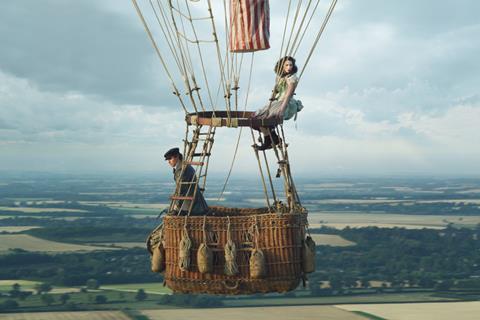 Amazon Studios executives are scrambling to discuss release plans with international partners on The Aeronauts after the awards hopeful's US theatrical release was moved back to a shorter slot in December.
On Tuesday (23) it emerged the Eddie Redmayne and Felicity Jones ballooning adventure – which has been tipped to premiere in Venice or a fall festival – had moved from October 25 to December 6, two weeks before it is scheduled to launch on Prime Video. Should there be demand, Amazon Studios will keep the film in theatres concurrent with the digital launch on December 20.
While it is understood the shorter theatrical release window in the US casts uncertainty over the film's previously announced release on IMAX screens, Amazon Studios sources said the move was designed to get The Aeronauts in front of as many viewers as possible as soon as possible to generate buzz for awards season. Prime Video operates in more than 200 territories.
That leaves the streamer's international partners, who licensed the film from FilmNation, unsure over how their distribution plans can fit around the US release. They are talking to Amazon Studios to find an appropriate fit.
Sources at the streamer claim there is no overall shift in distribution strategy under Amazon Studios head and TV veteran Jennifer Salke away from theatrical releases of up to 90 days in favour of a shorter uplift before a quick move on to Prime Video.
The company has endured a tumultuous few months that has seen Sundance acquisition Late Night flop at the US box office, and the departure of head of marketing and distribution Bob Berney.
Earlier this year Adam Driver political drama The Report was also scheduled for a short US theatrical release, however sources said the company continues to approach its US distribution plans on a case-by-case basis.
At time of writing, Sundance acquisitions Brittany Runs A Marathon and Honey Boy were understood to be in line for the full 90-day theatrical treatment. Toronto International Film Festival selection Radioactive from Marjane Satrapi, and Kristen Stewart drama Seberg (formerly Against All Enemies), had not been dated at time of writing.