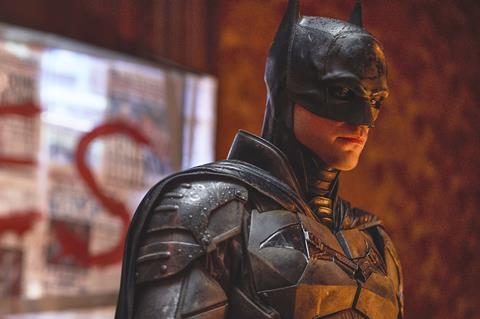 Worldwide box office March 11-13
| Rank | Film (distributor) | 3-day (World) | Cume (World) | 3-day (Int'l) | Cume (Int'l) | Territories |
| --- | --- | --- | --- | --- | --- | --- |
| 1. | The Batman (Warner Bros) | $132m | $463m | $66.6m | $224.7m | 76 |
| 2. | BTS Permission To Dance On Stage (various) | $32.6m | $32.6m | $25.7m | $25.7m | 75 |
| 3. | Uncharted (Sony) | $20.4m | $301.2m | $11.2m | $187.9m | 65 |
| 4. | Spider-Man: No Way Home (Sony) | $6.4m | $1.8bn | $2.4m | $1bn | 60 |
| 5. | Dog (various) | $6m | $55.3m | $0.7m | $7.5m | 20 |
| 6. | Death On The Nile (Disney) | $5.5m | $124.5m | $3m | $83.8m | 42 |
| 7. | Sing 2 (Universal) | $4.5m | $366.8m | $3m | $211m | 68 |
| 8. | The Battle At Lake Changjin II (various) | $4.3m | $625.9m | $4.3m | $625.9m | 3 |
| 9. | Turning Red (Disney) | $3.8m | $3.8m | $3.8m | $3.8m | 12 |
| 10. | Too Cool To Kill (various) | $3.4m | $405.2m | $3.4m | $405m | 2 |
Credit: Comscore, all figures estimates, click top right to expand
'The Batman' adds $133m worldwide on second weekend
MARCH 14 UPDATE: Warner Bros' The Batman delivered a strong second session in both North America and international territories, adding a confirmed $66m and $67.8m respectively, combining for $132.6m.
In cumulative totals North America has produced $239.1m with international box office at $226.8m and worldwide at $465.9m.
The holds were decent for a comic book franchise film, with box office declining 41% in North America, and 42% in international holdover markets. Japan opened on $3.2m to rank second in the territory behind a local title.
Among international markets, UK/Ireland leads both in terms of weekend takings (a confirmed $9.8m) and cumulative box office ($35.4m). The Batman is the fourth film of the pandemic era to crack £25m in UK/Ireland – following No Time To Die, Spider-Man: No Way Home and Sing 2 and currently stands at £26.5m. All have been released in the past six months.
The Batman earned $5.3m in both Mexico and Australia at the weekend and stand at $20.4m and $16.8m, respectively. France generated $4.3m for a $13.7m running total and Brazil $4.1m for $14.7m.
At the same stage of release in like-for-like markets, The Batman is tracking 36% ahead of The Dark Knight – but Warner Bros did not offer similar calculations for comparisons with The Dark Knight Rises and Joker. Those three earlier titles all ended up at very similar places, ranging from $1.01bn to $1.09bn worldwide. The Batman is already 46% of the way to matching The Dark Knight's $1.01bn global tally.
The film lands in the key market of China this Friday (March 18), and all eyes will be on the territory's contribution to The Batman's total. The Dark Knight Rises grossed a $53m lifetime in China in 2012.
BTS live concert grosses $32.6m worldwide
A live concert by Korean pop band BTS broke records for the event cinema category, with a worldwide gross of $32.6m. Presented by Hybe and Trafalgar Releasing, BTS Permission To Dance On Stage – Seoul: Live Viewing played in 3,711 cinemas in 75 countries for a one-day limited engagement on Saturday (March 12).
Premium ticket prices helped drive North America box office on the 180-minute event to $6.85m.
This was the first live worldwide cinema broadcast of a concert from South Korea, and follows earlier concert films with the band Burn The Stage: The Movie (2018), Bring The Soul: The Movie (2019) and Break The Silence: The Movie (2020).
BTS Permission To Dance On Stage – Seoul: Live Viewing marked the group's return to a stage in South Korea in front of a live audience for the first time since 2019. Multiple countries – even including Europe – took the concert film live from Seoul, many with a second showing a few hours later. This meant that the first showing was at 8.45am in UK and Ireland and 9.45am in key European markets. North and South America took the event on a time delay.
'Uncharted' crosses $300m barrier
Sony's Uncharted ceded second place in the worldwide box office chart to the BTS concert film, but nevertheless delivered a creditable estimated $20.5m for the weekend period, taking its global tally to $301.3m.
The PlayStation video game spin-off grossed an estimated $9.3m in North America (down just 15%) and $11.2m for international (down 36%). Cumulative totals are $113.4m in North America and $187.9m in international markets.
In cumulative box office, UK/Ireland continues to lead the field for Uncharted (with $29.3m), ahead of France ($16.5), Russia ($15.9m), Spain ($11.4m), Germany ($11m) and Australia ($11m).
Uncharted has already passed the worldwide lifetime gross of 2018's Tomb Raider ($274.7m), starring Alicia Vikander, as well as of 2016's Assassin's Creed ($240.7m), starring Michael Fassbender. The film releases in China today (March 14), and in Netherlands this Thursday (March 17).
Pixar's 'Turning Red' delivers $3.8m in 12 markets
Disney has released Pixar animation Turning Red in 12 markets where Disney+ does not operate, grossing an estimated $3.8m. The 12 territories are: Croatia, Czech Republic, Greece, Hungary, Israel, Saudi Arabia, UAE, Poland, South Africa, Turkey, Philippines and Vietnam.
Saudi Arabia led the pack with an estimated $920,000, nabbing second place in the box office chart (behind The Batman). The opening number was 46% ahead of Pixar's Luca.
Poland with an estimated $430,000 was likewise good for second place – and was 258% ahead of Luca. UAE ranked third among the 12 markets, with an estimated $420,000.