Filmmaker Paul Saltzman (Prom Night in Mississippi) is working on a feature documentary about his own experience of being in India with The Beatles in the 1960s.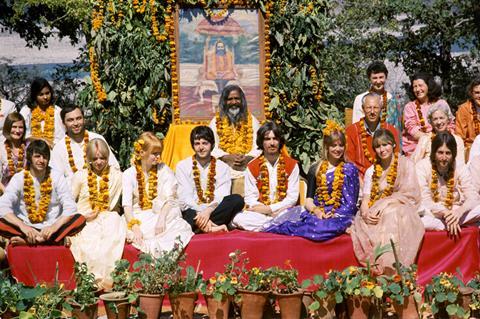 The Beatles travelled to Rishikesh, India in 1968 to study transcendental meditation on the banks of the Ganges. There, they ran into Canadian filmmaker Saltzman, who was seeking his own path to enlightenment. During their stay, Saltzman took intimate photographs of the group in an atypically informal setting (see above).
In the feature film, Saltzman revisits his experience by returning to India. Integral to the film is the background of how The Beatles began writing and rehearsing their famed White Album during their time in the country.
The project will feature rarely-seen footage, including in-depth interviews with the band.
Saltzman is also producing with Reynold D'Silva for Sunrise Films, Ren/oir Pictures and Silva Screen. They are aiming to wrap in time for a release in Autumn this year.
Silva Screen Group is financing together with private investors.
Saltzman's credits include Prom Night In Mississippi, which premiered at Sundance in 2009, and The Last White Knight—Is Reconciliation Possible?, which premiered at Toronto in 2012.
Producer Reynold D'Silva commented: "The idea of a Beatles in India documentary has been with me since the mid-nineties. By pure coincidence, or perhaps it was fate, three separate people put me in touch with Paul early last year.
"It turned out he had been harbouring the idea for even longer than I had. After our first phone call, we were set on a path to produce the film together. Paul has a stellar track record in his field of producing and directing films. He has a clear vision with a profound knowledge of the subject matter borne out by the fact he was at the ashram in Rishikesh with The Beatles in February, 1968."