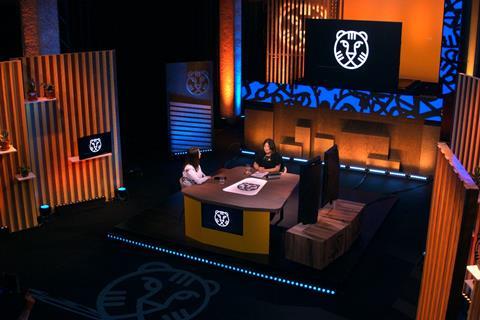 "The bigger the better," said four Tiger competition filmmakers of how they hope online festival audiences watch their films.
"Try to watch it on a big screen," said Dutch filmmaker and Rotterdam native Tim Leyendekker. "The bigger the better; especially, in my film, for the more abstract sequences."
Leyendekker, James Vaughan, Queena Li and Madiano Marcheti were taking part in the second press conference as part of the online International FIlm Festival Rotterdam (IFFR) this week. It was hosted by The panel event was hosted by producer Lorna Tee and IFFR festival director Vanja Kaludjercic.
Leyendekker is presenting his drama Feast at the festival – a reconstruction of a 2007 incident in Groningen, the Netherlands when drugged guests at a party were deliberately infected with HIV-positive blood. He said the sound mix is as important to the 'at-home' experience. "There's a really beautiful 5.1 mix – it's a pity you cannot emulate that at home, but a good stereo is as important as a big screen."
Vaughan, director of Tiger title Friends And Strangers, longed for the return of in-person events, saying he is "hoping that [the current situation] is just a bad dream we're going to wake up from soon."
"I've assumed that everyone who has booked a ticket to the film has also just booked out the cinema just for themselves to watch it that way," he joked.
Friends And Strangers uses the figures of two millennial Australians to explore contemporary middle-class life and solipsism in the age of social media.
Vaughan described Australian culture as "politically pretty reactionary" and "a cheap and insecure rehash of American and British culture", with the film trying to explore the effect of that rehash upon the human psyche.
The online festival experience won't change his filmmaking process as he already sees himself as part of a digital generation.
"I like digital," said Vaughan. "We're contemporary filmmakers; digital is now the way that we work, unless you're really committed to have the appliances available to work on film.
"Digital is interesting – it's a synthetic image, there are things to explore there."
Exceptional circumstances
Chinese director Queena Li's debut feature Bipolar, a contemporary retelling of the figure of Orpheus from ancient Greek mythology, also premieres in Tiger competition.
Li noted the "exceptional circumstances" of the current festival situation. "Watching Bipolar on a big screen will be best," she added, "but whichever way the audience chooses to watch it doesn't really matter. They'll forget the story, but they'll remember the atmosphere."
Madiano Marcheti began working on his Brazilian drama Madalena, about the death of a transgender woman, six years ago. "Of course I imagined it to be on a big screen then – also because of the spatial atmosphere it has", he said. "But due to the circumstances, it's OK [to watch on smaller screens]."
IFFR continues wholly online until February 7, with two further conversations with Tiger filmmakers in the coming days.