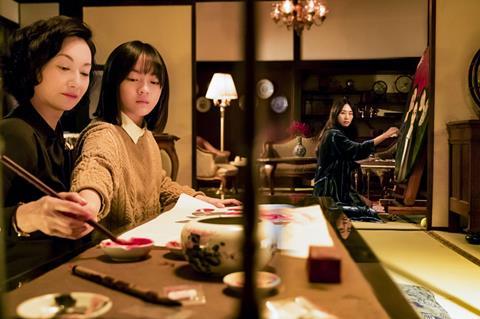 Yang Ya-che's The Bold, The Corrupt, And The Beautiful won best film and three other prizes at Taiwan's Golden Horse Awards (November 25), while The Great Buddha + took the most awards with five in all.
The Bold, The Corrupt, And The Beautiful was also awarded best actress for Kara Wai, best supporting actress for Vicky Chen and the Audience Choice award.
The Great Buddha + won best new director and best adapted screenplay, both awarded to Huang Hsin-yao, best cinematography (Nakashima Nagao), best original film score and best song.
Considered the most prestigious awards ceremony for Chinese-language cinema, the Golden Horse awards take place at the end of the Golden Horse Film Festival, which ran November 3-24 in Taipei. Ang Lee and Jessica Chastain were among the award presenters.
Among other winners, Vivian Qu won best director for Angels Wear White and Tu Men took best actor for Zhou Ziyang's Old Beast, which also picked up the FIPRESCI award (see full list of winners below).
Meanwhile, at the Golden Horse Film Project Promotion (FPP), a projects market that runs alongside the festival, Malaysian filmmaker Tan Seng Kiat won the grand prize for his latest project One Fine Day. He previously won the same award in 2014 for Shuttle Life, which has been winning prizes on the Asian festival circuit this year.
GOLDEN HORSE AWARDS 2017:
Best Feature Film – The Bold, The Corrupt, And The Beautiful
Best Documentary – Inmates, dir: MA Li
Best Animation Feature – Have a Nice Day, dir: LIU Jian
Best Live Action Short Film – Babes' Not Alone, dir: LEE Yi-shan
Best Animated Short Film – Losing Sight Of A Longed Place, dirs: SHEK Ka Chun, WONG Chun Long, WONG Tsz Ying
Best Director – Vivian QU, Angels Wear White
Best Leading Actor – TU Men, Old Beast
Best Leading Actress – Kara WAI, The Bold, The Corrupt, And The Beautiful
Best Supporting Actor – Bamboo CHEN, Alifu, The Prince/ss
Best Supporting Actress – Vicky CHEN, The Bold, The Corrupt, And The Beautiful
Best New Director – HUANG Hsin-yao, The Great Buddha +
Best New Performer – Rima Zeidan, Missing Johnny
Best Original Screenplay – ZHOU Ziyang, Old Beast
Best Adapted Screenplay – HUANG Hsin-yao, The Great Buddha +
Best Cinematography – NAKASHIMA Nagao, The Great Buddha +
Best Visual Effects – Johnny LIN, Perry KAIN, Thomas REPPEN, See You Tomorrow
Best Art Direction – Alfred YAU, See You Tomorrow
Best Makeup & Costume Design – William CHANG, CHEUNG Siu Hong, See You Tomorrow
Best Action Choreography – SANG Lin, Brotherhood Of Blades II: The Infernal Battlefield
Best Original Film Score – LIN Sheng-xiang, The Great Buddha +
Best Original Film Song – To Have, Or Not To Have, The Great Buddha +
Best Film Editing – Jean TSIEN, Bob LEE, Plastic China
Best Sound Effects – TU Duu-chih, WU Shu-yao, TU Chun-tang, Mon Mon Mon Monsters!
Outstanding Taiwanese Filmmaker of the Year – HU Ding-yi
Audience Choice Award – The Bold, The Corrupt, And The Beautiful
FIPRESCI Prize – Old Beast
Lifetime Achievement Award – HSU Feng