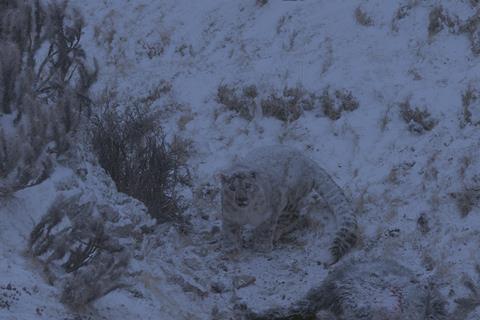 The Bureau Sales has acquired international rights to documentary The Velvet Queen following award-winning French nature photographer and explorer Vincent Munier as he attempts to track down the elusive snow leopard in Asia.
Paris-based Paprika Films is producing with Munier's publishing and production house Kobalann in co-production with Le Bureau – the French production arm of Bertrand Faivre's Paris and London-based film company. Haut et Court has pre-bought French rights.
French-Swiss biologist and filmmaker Marie Amiguet, whose credits include The Valley Of The Wolves, has signed to direct.
Writer and traveller Sylvain Tesson who has written extensively about his exploration of places such as Borneo, the Himalayas and Siberia, will accompany Munier as a co-writer.
Munier, Amiguet and Tesson will set off for an undisclosed location mid-September with a small crew to start shooting their quest to capture the elusive animal on camera.
Paprika has a strong track-record in nature documentaries. Recent co-production credits include Luc Jacquet's March Of The Penguins 2: The Next Step with Bonne Pioche and Vincent Steiger's A Wolf's Journey with Galatée Films.
Laurent Baujard, who co-heads Paprika Films with Pierre-Emmanuelle Fleurantin, also produced the 2013 wildlife fantasy Amazonia.
The company connected with Munier through March Of The Penguins 2, on which he worked alongside Jacquet, photographing the penguins while the director filmed them.
"He's one of the big wildlife photographers of the natural history scene," explained Fleurantin. "When he approached us with his idea for a documentary about the snow leopard, we were immediately interested. He has been tracking them for several years.
"This film is different from other wild-life documentaries we've worked on in the past," he continued. "On one hand, there is this animal which is extremely rare and beautiful and difficult to approach, a final surviving symbol of the wild.
"On the other, there is the human aspect of the quest to track it down. To get close, the team will have to disappear into nature and connect with their animality and the rhythm of the wildlife around them… the film will explore this too."
As well as the documentary, there will also be a book published by French publisher Gallimard, giving a personal account of the expedition. The film will be ready for delivery March 2020.
The Bureau Sales sales chief Clementine Hugot notes it is the first time the company has sold a wildlife documentary although it has handled a number of social documentaries such as So Help Me God (Ni Juge, Ni Soumise). Further titles on the company's TIFF slate include Peter Mackie Burns' Rialto, which premiered to strong reviews in Venice's Horizons , and Eva Riley's Perfect 10, which will debut at the BFI London Film Festival in October.
Paprika Films, meanwhile, is at TIFF this year with Filippo Meneghetti's drama Deux, about two retired women in a secret relationship, which premieres in the Discovery section.