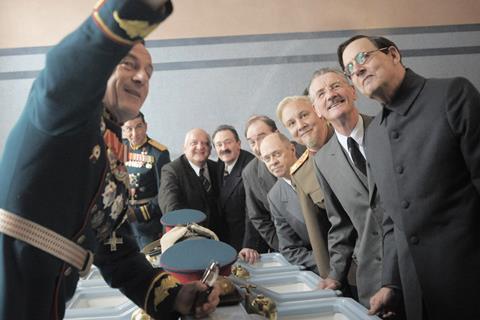 The Russian Ministry of Culture has withdrawn the exhibition license for Armando Iannucci's historical satire The Death of Stalin.
According to a report in state-run Russian news agency Tass, the decision was made after a screening of the film on Monday (Jan 22) attended by industry figures, State Duma (lower house of parliament) MPs, Russian Historical Society representatives and members of the Culture Ministry's Public Board.
The Board's head Yuri Polyakov said the film should not be screened in Russia because it is a tool for "ideological struggle", adding that, "nobody spoke out in favour of the film as a work of art." The film was previously set for release in Russia on 25 January.
The news was confirmed to Screen by the Russian Ministry of Culture.
Commenting on the decision, Russian Culture Minister Vladimir Medinsky said in a statement on the ministry's website: "We don't have censorship. We're not afraid of critical or hard-hitting assessments of our history. In this department, we could give anyone a run for their money. But there's a moral boundary between the critical analysis of history and pure mockery."
It adds: "Many older people, and quite a few others, view this [movie] as an offensive mockery of the entire Soviet past, of the country that defeated fascism, of the Soviet army, and of ordinary people. And, most distastefully, they see it as even mocking the victims of Stalinism." The statement says that the film is inappropriate on the 75th anniversary of the Battle of Stalingrad.
The minister said that the film has been sent for additional comprehensive legal review.
The film stars Steve Buscemi, Simon Russell Beale, Rupert Friend, Jason Isaacs and Michael Palin, and portrays the shambolic power struggle following Stalin's death in 1953. It was nominated for two Baftas including Outstanding British Film.