I, Daniel Blake, The Salesman, Under the Shadow and Fire at Sea will also screen at youth-focused festival.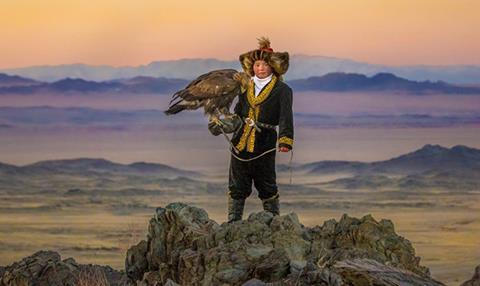 The fourth edition of the Doha Film Institute's Ajyal Youth Film Festival (Nov 30-Dec 5) kicks off this week with the MENA debut and gala screening of UK director Otto Bell's Mongolia-set documentary The Eagle Huntress (pictured).
The father and daughter tale about a young girl who defies social convention and the elements of Mongolia's Altai Mountains to become her community's first female eagle hunting champion premiered at Sundance earlier this year.
It is among a number of Academy Award hopefuls screening at the youth-focused event alongside Under The Shadow, The Salesman, The Idol and Fire At Sea.
Festival director and CEO of the Doha Film Institute Fatma Al Remaihi said the tale of female empowerment at the heart of The Eagle Huntress chimed with Ajyal's focus on "positive social change" this edition.
"We're delighted to open the fourth edition of our festival with a film that not only celebrates the values of familial bonding but also highlights the power of the human mind to beat all odds. A celebration of women empowerment, the film will be an inspiration for all, and resonates with the themes that we highlight this year," she said.
The six-day Ajyal festival will screen 70 titles in total, comprising 24 features and 46 shorts and documentaries from 33 countries.
Guest of Honour, Meg Ryan
Among the guests will be actress Meg Ryan to present her directorial debut Ithaca, a coming of age tale about a young boy who takes a job as a telegram boy in a small US town during World War Two.
The actress and director will receive the Ajyal Honorary Award during her stay.
"She is an inspiration to people of all ages, not only for her perseverance in lending diversity to her roles but also for her commitment to improving the lives of other women," said Al Remaihi.
Qatari presence
In a milestone for the DFI and Qatar, the first completed projects to be financed by the Qatar Film Fund, launched end-2104, will also screen during the festival. They comprise Nora Al-Subai's Al-Johara and Amer-An Arabian Legend by Jassim Al Rumaihi.
The programme also features two Qatari shorts backed by the DFI's main grants programme, Hend Fakhroo's The Waiting Room and AJ Al-Thani's Kashta.
In total, 15 of the films screening at Ajyal have received a DFI grant, including features Under The Shadow, Listen To The Silence, The Salesman as well as short film Waves and Ave Maria.
"Since our inception four years ago, we have evolved tremendously, especially in the diversity of our programming that encourages critical thinking on contemporary issues, and highlights the power of films to shape perceptions and change minds," said Al Remaihi.
"With our theme of social change and transformation, we have carefully curated a programme that urges audiences to understand the power that lies in every human being to make a positive difference."
Within this broader theme, the programme will also touch on the global migrant crisis as well as the environment with special screenings of Hernán Zin's Born In Syria – following seven young displaced Syrians over the course of a year – and Jacques Perrin and Jacques Cluzaud's Seasons looking at how human activity is impacting the planet.
Trans-adapted screening
Having opened Ajyal in 2015, Palestinian director Hany Abu-Assad's The Idol will play again this year but in a special "trans-adapted" version aimed at visually impaired and hard-of-hearing spectators.
Family focused events include a fancy dress red carpet screening of Mel Stuart's 1971 children's classic Willy Wonka & The Chocolate Factory, in honour of its star Gene Wilder who passed away this year, and open-air screenings of CodeGirl and Naledi: A Baby Elephant's Tale.
DFI board boost, beIN chief among new appointees
In separate DFI news on the eve of Ajyal, the institute announced the arrival of five new appointees on its executive board of trustees, led by royal family member H.E. Sheikh Thani bin Hamad bin Khalifa Al-Thani.
The other new trustees include Qatar's Minister of Culture and Sports H.E. Saleh bin Ghanem bin Nasser al-Ali Maadheed; beIN CEO H.E. Nasser bin Ghanem Al-Khelaifi; Qatar Media Corporation CEO H.E. Sheikh Abdulrahman bin Hamad bin Jassim bin Hamad Al-Thani, and H.E. Sheikh Saif bin Ahmed bin Saif Al-Thani, director of the government communication office and acting director of the prime minister's office.
Sheikha Al Mayassa bint Hamad bin Khalifa Al-Thani, founder and chairperson of the DFI, continues to chair the board.
She said: "The Board of Trustees of the Doha Film Institute will steer the organisation to a new era of growth that will focus not only on driving a vibrant Qatari film industry, but also on fostering the next generation of talents who are creating compelling content in the Middle East."