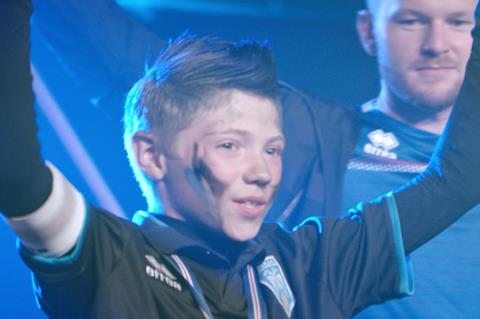 As Iceland prepares to take on Nigeria in World Cup action this afternoon (22 June), Icelandic family football feature The Falcons, directed by Bragi Thor Hinriksson, is being released online in several countries.
Iceland's goalkeeper Hannes Thor Halldórsson edited the trailer for The Falcons and had originally been attached to direct the film, until his schedule changed when he joined the national football team.
Other footballers cast for the film includes the captain of the Icelandic national team Aron Einar Gunnarsson, former national team player Hermann Hreidarsson, and Margrét Lára Vidarsdóttir who is the all-time top scorer in the Icelandic women's national team.
LevelK is handling international sales and acting as a digital partner for distributors in their home countries.
The film is digitally released in the UK, US, Ireland, Canada, and New Zealand and is available on streaming sites as iTunes and Google Play.
LevelK has also sold the film to Germany (Studio Hamburg), China (Jushi Films) and Poland (Vivarto).
Producers are Anna Vigdís Gísladóttir and Thorhallur Gunnarsson for Sagafilm. Backers include RUV, the Icelandic Film Centre, Iceland's Ministry of Industries and Innovation, and Creative Europe.
Samfilm has already been released The Falcons theatrically in Iceland, where it has been seen by more than 10% of the population.
The story follows a 10-year-old boy and his teammates as they travel to Iceland's Westman Islands for a large football tournament. It is based on the first book in Gunnar Helgason's series The Great Football Adventures.
Hinriksson's past films include local family hit The Magic Wardrobe.