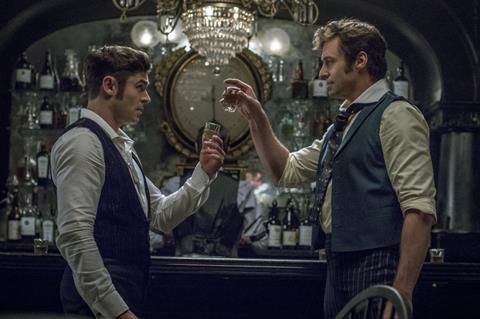 The Greatest Showman has broken the record for selling the most digital copies in the UK.
According to the half year 2018 report from the British Association for Screen Entertainment (BASE), the musical starring Hugh Jackman and Zac Efron sold 1.4m units in 2018, with around 33% of these digital (466,000).
The Greatest Showman has since become the first title to surpass digital sales of half a million.
In the first half of 2018 around 38m units were sold overall in the UK, with 22.4% of these digital – up from 15.5% in 2017 and 11.4% in 2016.
Overall sales figures for the same period last year (Jan-June 2017) were not available, so it is unclear if digital sales have grown in real terms. 118m units were sold overall in 2016 including in Q3 and Q4.
The further top-selling titles of 2018 so far are below, including both physical and digital sales:
The Greatest Showman - more than 1.4 million
Star Wars: The Last Jedi - more than 1.03 million
Paddington 2 - more than 928,000 (inclusive of Paddington 1 and 2 box sets)
Thor: Ragnarok - more than 673,000 (inclusive of box sets)
Jumanji: Welcome To The Jungle - more than 600,000
Kingsman: The Golden Circle - more than 587,000 (inclusive of box sets)
Black Panther - more than 513,000
Blade Runner 2049 - more than 499,000
Justice league - more than 482,00
Darkest Hour - more than 402,000
Robert Price, chairman of BASE and managing director, Twentieth Century Fox Home Entertainment, said: "There is much to be positive about when considering the performance of the home entertainment sector so far in 2018, especially in the context of a challenging trading environment and unsteady consumer confidence
"As an industry we must ensure our relevance to audiences sustains. We need to capitalise on successes where we see them and be bold and collaborative in approaching challenges and meeting the needs of a customer base still clearly very much in love with ownership and collection."