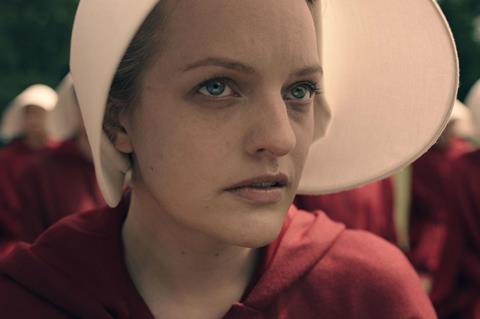 Hulu and MGM's The Handmaid's Tale won the biggest award of the night at Sunday's 69th Primetime Emmy Awards, taking best drama series in a first for a streaming service after Elisabeth Moss claimed the best dramatic actress prize and the dystopian series tied on five wins with HBO's Big Little Lies.
Oprah Winfrey presented the drama series award to creator Bruce Miller, whose show was nominated for 13 Emmys this year. Westworld, which started the night on 22 nods, left empty-handed. The Crown picked up one prize for John Lithgow in the best supporting dramatic actor contest.
Reese Witherspoon of Big Little Lies, which picked up the award for best limited series, highlighted a strong year for female-driven stories on television. "Bring women to the front of their own stories and make them the hero of their own stories," she said. Nicole Kidman added, "[Big Little Lies was an] opportunity from frustration… We weren't being offered great roles. Now, more great roles for women."
Kidman won best actress in a limited series or movie for her portrayal of a woman contending with domestic abuse on Big Little Lies. "It is a complicated, insidious disease…by you presenting me with this award, it shines a light on it even more," Kidman said. Jean-Marc Vallée won best director of a limited series or movie, and Laura Dern took home the statuette for best supporting actress in a limited series or TV movie.
First-time nominee Ann Dowd was awarded the Emmy for best supporting actress in a drama series for The Handmaid's Tale. She entered the night with two nominations, including a nod for best guest actress in a drama series for HBO's The Leftovers, which she lost to Alexis Bledel for The Handmaid's Tale. Show creator Bruce Miller won best writing for a drama series and thanked author Margaret Atwood, "who scared the living crap out me in college", and star Elisabeth Moss, who "leaves me speechless."
After nine Emmy nominations, Moss collected her first award, for best actress in a drama series. Sterling K. Brown won the award for best actor in a drama series for his role as Randall Pearson in NBC's breakout hit This Is Us. The award is his second consecutive Emmy, following last year's win for playing Christopher Darden in Ryan Murphy's The People V. O.J. Simpson: American Crime Story.
British talent
In a decent night for British talent, Charlie Brooker's Black Mirror: San Junipero took the award for best TV movie. Brooker also won for best writing for a limited series or movie for the show. Riz Ahmed was named best actor in a limited series or movie for HBO's gritty drama The Night Of. The show is based on the 2008 BBC series Criminal Justice. Ahmed paid tribute to the late actor James Gandolfini, who produced, and was originally set to star in the show before his death in 2013. Ahmed added, "If this show has shone a light on some of the injustice in our justice system, then maybe that's something."
Julia Louis-Dreyfus became the only performer to win six awards for the same role. It is also her sixth consecutive win playing Selina Meyer on HBO's Veep, which puts Louis-Dreyfus in a class of her own. Candice Bergen holds five Emmys for Murphy Brown. Louis-Dreyfus beat out a crowed field that included Pamela Adlon, Jane Fonda, Allison Janney, Ellie Kemper, Tracee Ellis Ross, and Lily Tomlin. "This is and continues to be the role of a lifetime," Louis-Dreyfus said.
Lithgow claimed the first award of the night, and the only primetime win for The Crown (it also won two Creative Arts Emmys), for his portrayal of prime minister Winston Churchill in the Netflix series, which was up for 13 awards. Kate McKinnon won her second consecutive Emmy for best supporting actress in a comedy series for SNL.
Donald Glover won two wards for best actor in comedy series and best directing for a comedy series for his show Atlanta, which airs on FX. Atlanta received six nominations, in this, its first year of eligibility. The first-time nominee name-checked president Donald Trump during his acceptance speech, saying, "I want to thank Trump for making black people number one on the most oppressed list. He's the reason I'm probably up here." Glover entered the night with four nominations.
Alec Baldwin won best supporting actor in a comedy series for his portrayal of the US president on SNL. He accepted his statuette saying, "Mr. President, here's your Emmy." Baldwin was alluding to a moment earlier in the broadcast when host Stephen Colbert showed a video of the presidential debates between Trump and Hillary Clinton, in which Trump said he "should've won an Emmy". Colbert immediately quipped "If he had won an Emmy, he probably wouldn't have run for president."
Diversity
This year's Emmy telecast made a point to highlight diversity and inclusion. Television Academy president Hayma Washington touted what he called two of the most important facets of the TV industry – quality and inclusiveness. He went on to say, "[No matter your] creed, colour, sexual orientation, or gender identity, the television industry embraces you and the stories you choose to create."
Trump was the focus of several acceptance speeches, and was a constant presence during television's biggest night. Dolly Parton, Lilly Tomlin, and Jane Fonda, stars of the 1980 film 9 To 5, reunited on stage and said, "In 1980 we refused to be controlled by a sexist, egotistical, lying, hypocritical bigot, and now in 2017 we refuse to be controlled by a sexist, egotistical, lying, hypocritical bigot." The audience replied with thunderous applause. The actresses presented Alexander Skarsgard the prize for best supporting actor in a limited series or TV movie for Big Little Lies.
Trump was also a centrepiece of Colbert's opening monologue, which included a surprise appearance by his former press secretary Sean Spicer. Colbert called Trump the biggest star on TV, which was met with silence. In addition to thanking the first responders to the aftermath of natural disasters in Texas and Florida, Colbert highlighted diversity in the television industry and noted this year's group of nominees was the most diverse group in history for the third year in a row.