Sequel to record breaking comedy schedules UK release.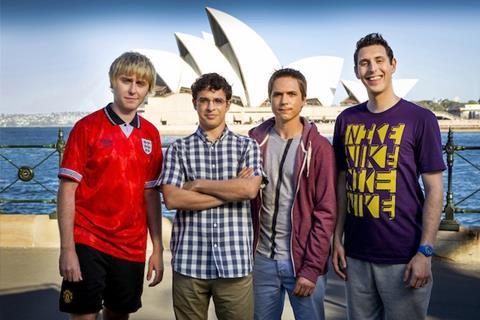 The Inbetweeners 2 is to open in cinemas across the UK and Ireland on August 6 2014.
The anticipated follow up to the UK's most successful comedy film of all time sees young friends Jay, Neil, Simon and Will visit Australia. Simon Bird, James Buckley, Blake Harrison and Joe Thomas are joined by additional cast members Emily Berrington, Freddie Stroma and David Field.
The feature is written and directed by series creators, Damon Beesley and Iain Morris, and produced by Spencer Millman (The Mighty Boosh).
The Inbetweeners 2 is produced by Bwark Productions, a Zodiak Media company, and co-financed with Film4. Entertainment Film Distributors are distributing the film in the UK & Ireland.
The first film - a spin-off from a TV comedy that aired on Channel 4's digital station E4 - grossed more than $90m at the worldwide box office when released in 2011.