It's a Disney one-two at the top as Zootropolis holds on to second spot and crosses £20m.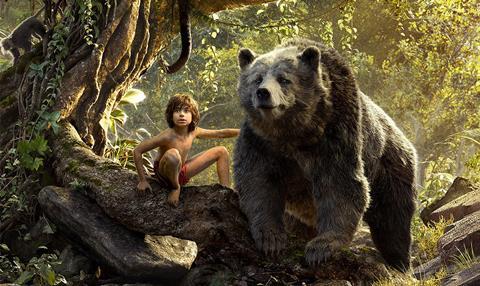 UK TOP FIVE
| Ranking | Film/Distributor | Weekend gross | Running total |
| --- | --- | --- | --- |
| 1 | The Jungle Book (Disney) | $14m (£9.9m) | $14m (£9.9m) |
| 2 | Zootropolis (Disney) | $1.6m (£1.13m) | $29.3m (£20.7m) |
| 3 | Eye In The Sky (eOne) | $1.57m (£1.11m) | $1.57m (£1.11m) |
| 4 | Batman v Superman (WB) | $1.4m (£988,000) | $50m (£35.35m) |
| 5 | Eddie The Eagle (Lionsgate) | $1.1m (£792,000) | $10.3m (£7.27m) |
DISNEY
The Jungle Book swung into the UK box office with a mighty chart-topping debut.
Disney's live-action remake scored a tremendous $14m (£9.9m) opening from its 590 sites, marking a huge $23,765 (£16,780) site average, with 30% of its gross coming from 3D screens and a further 8% ($1.1m/£800,000) coming from IMAX.
Overall, it ranks as the third biggest debut of 2016 behind Batman v Superman and Deadpool. The Jungle Book was narrowly behind Deadpool's Fri-Sun tally of $14.1m (£9.97m).
The result marks director Jon Favreau's best-ever UK debut ahead of both Iron Man outings, and means The Jungle Book is already almost halfway to the final results of Cinderella ($30.1m/£21.28m) and Maleficent ($28.9m/£20.4m).
The Jungle Book will likely reign supreme again this coming weekend, before stablemate Captain America: Civil War arrives on Aril 29. Even then, it should still bring the crowds in as a family alternative.
Also for Disney, Zootropolis made it a one-two at the top of the chart, dropping a respectable 52% for a $1.6m (£1.13m) fourth weekend.
The critically acclaimed animation now stands at $29.3m (£20.7m), overtaking both Tangled and Big Hero 6 in terms of Walt Disney Studio Animations outings in the UK.
EONE
Landing third on its UK bow was eOne's Eye In The Sky with an auspicious $1.57m (£1.11m) from its 427 sites.
That's a site average of $3,681 (£2,595) in the face of a powerhouse arrival like The Jungle Book, and bodes well for its midweek returns.
Also for eOne, Midnight Special posted a big drop on its way to a $217,000 (£153,107) second weekend for $1.3m (£944,282), and is at least now director Jeff Nichols' best-ever UK performer.
WARNER BROS
Batman v Superman: Dawn Of Justice posted a further big drop in its fourth weekend with $1.4m (£988,000).
Warner Bros' epic battle now stands at $50m (£35.35m) and will still hope to catch Deadpool's $53.6m (£37.84m) to break into the top five superhero films of all time, albeit briefly given the imminent arrival of Civil War.
LIONSGATE
Eddie The Eagle posted the lowest drop in this week's top 15 as it rounded off the top five.
Lionsgate's biopic flew to a further $1.1m (£792,000) for a healthy $10.3m (£7.27m) after three weeks in play.
Also for Lionsgate, Criminal could only manage a soft non-final $351,000 (£247,424) UK bow from its 277 sites.
London Has Fallen now stands at a superb $15.4m (£10.83m), while Sing Street has grossed a strong $1.05m (£745,614) from its Irish release.
UNIVERSAL
Falling almost 60% (excluding previews), Universal's The Huntsman: Winter's War took $915,000 (£646,247) for $6.2m (£4.5m) after 14 days in play.
Also for Universal, My Big Fat Greek Wedding 2 stands at $5.2m (£3.67m) after four weeks in play.
FOX
In its sixth week, Fox's Kung Fu Panda 3 added a non-final $346,000 (£244,257) for $18.9m (£13.31m) to date.
Also for Fox, Secret Cinema's production of 28 Days Later scared up $227,000 (£160,186) from the first four days of its run.
Deadpool has now sliced its way to $53.6m (£37.84m).
STUDIOCANAL
Falling around 40% (excluding previews), Studiocanal's Dheepan recorded an $89,000 (£62,595) second weekend for $384,000 (£271,389) so far.
Also for Studiocanal, High-Rise has now grossed $2.6m (£1.83m).
CURZON ARTIFICIAL EYE
Opening in 21 sites, Curzon Artificial Eye's Our Little Sister posted a UK bow of $68,000 (£47,973), including previews.
That's over double the $29,000 (£20,463) bow of director Hirokazu Kore-eda's I Wish, although that opened on a third less sites. I Wish went on to take $166,000 (£114,206) in the UK.
Also for Curzon Artificial Eye, Victoria stands at $503,000 (£355,018) after three weeks in play.
METRODOME
The Brand New Testament recorded a non-final UK debut of $45,000 (£31,638). including just over $14,000 (£10,000) in previews, from its 19 sites through Metrodome.
UPCOMING RELEASES
This week sees saturation releases for Warner Bros' Friend Request (opens April 20) and Studiocanal's Bastille Day.
Icon Film Distribution's Miles Ahead and Lionsgate's Jane Got A Gun both receive wide releases, while Dogwoof's Mapplethorpe: Look At The Pictures and Metrodome's Desert Dancer are among the films receiving a limited release.