Four new releases made the box office top 10, with The Jungle Book leading the way.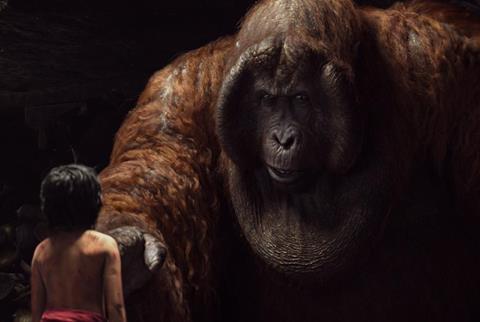 Jon Favreau's The Jungle Book easily swung to the top of the Chinese box office in yet another quiet week during Apr 11-17. The live-action animation grossed $49.4m over its three-day opening weekend, accounting for almost half of last week's total box office. It marks Disney's third potential breakout hit in China this year, following Star Wars: The Force Awakens and Zootopia.
In second place, action sequel London Has Fallen held steadily with $21.17m for $45.91m after ten days.
Yang Qing's Chongqing Hot Pot continued to sizzle in third place with $7.26m, bringing its total to $55.87m after 17 days.
Lost In White debuted in fourth with $4.22m from its first three days. Produced by Zhang Yibai, the directorial debut of cinematographer Xu Wei is a crime-thriller starring Tony Leung Ka-Fei, Tong Dawei and Zhou Dongyu.
The other two new entries were Japanese director Nobuhiro Doi's lost youth drama Flying Colors, which opened in seventh with $3.32m from its first four days, and Nima Nourizadeh's action-comedy American Ultra which launched in eighth with $2.01m from its first three days.
Sammo Hung's The Bodyguard dropped to fifth with $3.96m for $49.81m after 17 days.
Zootopia ranked sixth with $3.77m and concluded its extended run on Sunday with a record-breaking $237.26m after 45 days. The runaway animation hit is currently Disney's biggest title in China as well as the seventh-top-grossing film ever in China.
Rounding out the top 10, Batman V Superman: Dawn Of Justice added $1.29m from $95.82m after 24 days, while Who Sleeps My Bro took $1.28m for $19.34m after 17 days.
Among the new titles for this week are My New Sassy Girl, The Huntsman: Winter's War, Yao Ting Ting's Yesterday Once More and Peter Tsi's Buddy Cops, all due out on April 22.