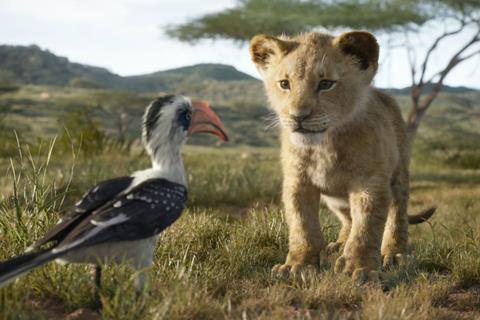 Today's GBP to USD conversion rate: 1.23
Disney
The Lion King posted a second straight £10m+ weekend, dropping 36% compared to its opening session, to £10.6m. Including strong mid-weeks, the film is already up to an impressive £36.8m after 10 days.
It is another smash hit for Disney, already placing fourth in the highest-grossing films of the year, overtaking Aladdin (which is up to £36m) after just two weeks. The top five is now composed entirely of Disney titles: Avengers: Endgame, Toy Story 4, Captain Marvel, The Lion King and Aladdin.
This weekend, Toy Story 4 fell a slender 8% with £2.5m, taking it to £51.6m to date. It is now the third biggest animation ever in the UK and the second film this year to cross £50m after Avengers: Endgame. The Lion King will become the third within a couple of weeks. In 2018, five titles crossed the £50m mark, and 2019 has several candidates to come.
Overall, Disney dominated the UK box office weekend, with the studio's releases representing 65% of total business.
Sony Pictures
Spider-Man: Far From Home added £1.7m, down a steady 27% on last weekend, and is now up to £30.6m.
The film will pass Spider-Man: Homecoming's £30.7m this week to be the second highest grossing entry in the franchise behind Spider-Man 3 on £33.6m.
Deon Taylor's horror The Intruder opened to £51,000 from 131 screens this weekend for a tepid site average of £389.
Men In Black: International is up to £6.7m from its UK run.
Universal
Yesterday posted a solid 21% drop in its fifth weekend, taking £609,258 for £11.1m to date. The film has also been a counter-programming hit in the US.
The Secret Life Of Pets 2 added £53,444 for £18.8m, while The Dead Don't Die took £41,005 for £507,577 after three weekends.
Altitude
Horrible Histories: The Movie - Rotten Romans, based on the much-loved children's book and TV series, opened with £584,049 from 527 sites for a decent average of £1,108. Including previews, its cume stands on £609,286.
That is not a bad start for the first entry in the planned franchise, though UK mini-studio Altitude looks to have made a decent-sized bet on the film, including making it the company's widest release, so will be hoping to do more business in the coming weeks.
Fellow UK indie title Fisherman's Friends had a similarly wide release earlier this year, grossing £1.2m from 502 screens on its opening weekend. However, Horrible Histories did face stiff competition for family audiences this weekend, particularly from Disney titles The Lion King, Toy Story 4 and Aladdin, while Lionsgate's The Queen's Corgi is also still in cinemas. Given time, the Altitude release could have a long tail as family releases tend not to be as front-loaded as other genres. However, more competition comes from The Angry Birds Movie 2 (Sony Pictures) and Charming (Blue Finch Film Releasing) next weekend.
Warner Bros
Annabelle Comes Home dropped -36% this weekend, taking £496,172 from 443 locations for £5m to date.
Entertainment Film Distributors
The Current War, Alfonso Gomez-Rejon's story of the race between electricity titans Thomas Edison (Benedict Cumberbatch) and George Westinghouse (Michael Shannon) to determine whose electrical system would power the modern world, opened to £454,642 on 488 screens for a site average of £931.
Midsommar is up to £2.4m after adding a further £114,611 this weekend.
Lionsgate
The Queen's Corgi added £118,797 and is on £1.6m.
Dogwoof
Marianne & Leonard: Words Of Love, Nick Broomfield's documentary feature about the relationship between the late singer Leonard Cohen and his Norwegian muse Marianne Ihlen, opened with £82,067 from 32 cinemas Fri-Sun, an excellent site average of £2,565.
The title also had previews last weekend, which generated £64,212 from 64 sites, and including various other screenings such as festivals the film is at £156,952 cume.
Apollo 11 took £52,000 at the weekend for a total of £1.2m
New Wave
The Chambermaid opened to £12,879 from eight screens this weekend, a good site average of £1,610.