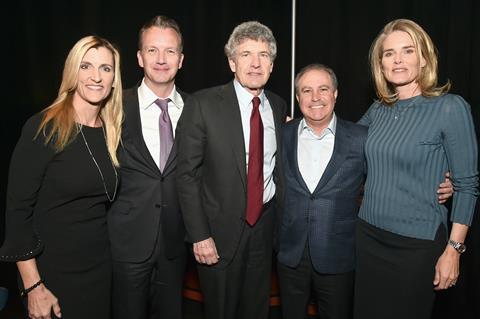 Disney's star-less CinemaCon presentation on Wednesday evening (April 3) was the first time the industry got to see Disney and Fox executives side-by-side since the $71.3bn acquisition closed, and will be remembered first and foremost for stunning footage from Jon Favreau's upcoming summer release The Lion King.
There was also the sense of much to do and lots of planning ahead from an opening sizzle reel that featured outsized tentpoles from both studios and a sly moment when Wolverine is seen asking, "What is this place?"
Walt Disney Studios chairman Alan Horn acknowledged the magnitude of the combined stables when he told attendees at the Colosseum in Caesars Palace that he was only just getting his head around what was happening.
Disney distribution supremo Cathleen Taff handed over to Fox's guardian-in-chief Emma Watts, who goes by her official title of vice-chairman of 20th Century Fox. Watts was one of he Fox imports to survive the recent post-merger cull of the Fox hierarchy, which has left Hollywood insiders shocked by the brusque manner in which some senior executives were told that their time was up.
Disney showed more footage from April 26 release Avengers: Endgame, a surefire blockbuster that is so highly anticipated that it set a new record for US advance ticket sales on Tuesday, temporarily crashing websites at AMC and Fandango, among others. There was no word on which Marvel Studios films will fill slots in 2020.
There were no-shows at CinemaCon from Fox's Avatar 2 – Jim Cameron did not bring footage from his December 18 2020 sci-fi sequel – and December 20 release Star Wars: Episode IX. J.J. Abrams' sci-fi opera may be a better fit for Comic-Con and Disney's annual D23 expo later in the summer.
However The Lion King will have gone a long way towards satisfying attendees, and drew gasps from the crowd with its lifelike photo-realistic effects of titular character Simba (voiced by Donald Glover) and his father and reigning king of the savannah, Mufasa (James Earl Jones), who tells his son that one day all he surveys will be his.
The film opens on July 19 and has been described as live-action, although it is more accurate to describe it as a CGI production that uses extraordinary photoreal animation like that deployed by Favreau on The Jungle Book.
In a year when insiders have speculated Disney could cross $10bn by itself, it could be the films outside the trinity of mega-acquisitions – Marvel Studios, Lucasfilm, and Pixar – that push the studio past that milestone. Dumbo is limping along on $127m worldwide after nearly one week, and early word on Aladdin is not as feverish as the filmmakers would have hoped. A lot rides on The Lion King, and few expect it to disappoint at the box office.
On the Fox slate, there was stirring race sequence footage from Ford v Ferrari, the Matt Damon and Christian Bale potential awards bait about the struggle between the racing giants to win the Le Mans in 1966. It opens on November 16.
Taff acknowledged there will be a shuffle on the release schedule where Fox and Disney films clash. That could affect Fox's Brad Pitt sci-fi Ad Astra, which has been set for May 24 in the US – the same date as Disney's great blue hope Aladdin. Ad Astra's French release date has been pushed back from March 22, casting doubt on its appearance at Cannes Film Festival.
There was CinemaCon footage from The New Mutants, the much-delayed X-Men spin-off that had been rumoured to go straight to Hulu and may now get a theatrical release on August 2. X-Men universe release Dark Phoenix opens in theatres on June 7.
Horn teed up a sizzle reel of Fox Searchlight's greatest accomplishments. Disney chief Bob Iger has expressed admiration for the company, which offers a prestige pipeline for the studio and its Disney+ platform scheduled to launch towards the end of they year.
Taff also paid tribute to the work at Fox done by departed domestic distribution chief Chris Aronson – whose showmanship was sorely missed this year – and head of international, Andrew Cripps.