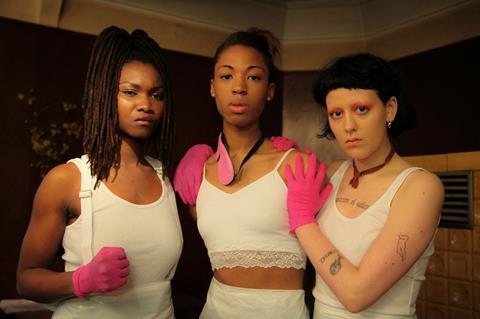 German sales outfit M-Appeal has closed UK, France and US deals for Berlin Panorama title The Misandrists by Bruce LaBruce.
The film has been sold to Matchbox Films in the UK and Cartilage Films in North America. They are both planning a theatrical release.
The title has also sold to Optimale in France, which is also exploring a cinema run, with the release planned for next year. These are in addition to prior deals in Germany (Salzgeber & Co. Medien GmbH) and Scandinavia [Njuta Films].
The film, starring Susanne Sachße, Viva Ruiz and Kembra Pfahler, revolves around a secret cell of feminist terrorists who are planning to liberate women, overthrow the patriarchy, and usher in a new female world order.
After its Berlin premiere, the film has also screened at Istanbul IFF, Karlovy Vary and L'Étrange Festival in Paris. Its UK premiere will be at the Raindance Film Festival.
Cult filmmaker Bruce LaBruce, the Toronto-based filmmaker, photographer, writer, and artist, has previously made films including Gerontophilia, which won the Grand Prix at the Festival du Nouveau Cinema in Montreal in 2013, and Pierrot Lunaire, which received the Teddy Award Special Jury Prize at the Berlinale in 2014.
LaBruce has been honoured with film retrospectives at both TIFF/Bell Lightbox 2014, and at the Museum of Modern Art in New York, 2015.
Bruce LaBruce said: "I am thrilled to have my film The Misandrists distributed by Matchbox in the UK, Cartilage in the US and Optimale in France. It's increasingly difficult to find dedicated distributors who enjoy the challenge of taking on provocative and ornery independent films. It's reassuring for indie filmmakers to know that there are distributors out there who put cinema first. Bravo!"
Matchbox Films CEO Murray Dibbs said: "We are really excited to be looking after the new Bruce LaBruce film The Misandrists as not only will it appeal to his massive UK LGBT fanbase but also will cross over to other areas of the market and it's perfect timing to coincide with his exhibition in the UK later this year."
Cartilage president Jasper Basch said: "We are thrilled to be bringing The Misandrists to audiences in the US. Cartilage Films was founded so that we could champion works of art we love - movies that simultaneously scare and excite audiences - and Bruce LaBruce has created a feminist film that does just that. It's a punk rock piece of filmmaking, and it's amazing."