Swedish artist and filmmaker Anna Odell's (The Reunion) next feature has been picked up for world sales by Warsaw-based New Europe Film Sales.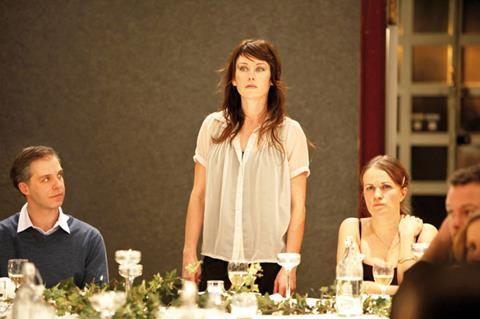 The untitled feature stars Odell alongside Scandinavian talent Mikael Persbrandt, Trine Dyrholm, Sofie Gråböl, Vera Vitali, Thure Lindhart, Jens Albinus and Shanti Roney. The unscripted project is an attempt to examine the masculine and feminine identities, it will mix reality and fiction in an effort to create conflict.
The film is currently in the editing suite with delivery set for mid-to-late 2018. New Europe will be showing clips to industry at the Nordic Film Market in Goteborg this week, where it is part of the festival's works in progress showcase.
Producers are Frida Bargo and Mattias Nohrborg at B-reel Films, in co-production with Film i Väst, Swedish Television, Avenyfamiljen, Fasad Produktion and Nimbus and supported by The Swedish Film Institute and The Danish Film Institute. it will be distributed in Sweden by TriArt Film.
Jan Naszewski, CEO of New Europe, commented: "We are excited to work with Anna, who is one of the most interesting European auteurs today as well as Mattias and Frida and their team, who are known for having great taste both as producers and distributors. Having leading European actors in the film, such as Trine Dyrholm is a big selling point for us."
Producers Mattias Nohrborg and Frida Bargo of B-reel Films added: "We know Anna from her first feature The Reunion, which was a big hit in Sweden and also did well internationally. We felt directly when reading the new script, this could be something unique a kind of film you have never seen before. And we have loved every minute of the production process".
New Europe Film Sales' line-up includes 2018 Sundance titles Pity by Babis Makridis and Loveling by Gustavo Pizzi, Berlinale Generation selection Gordon & Paddy by Linda Hambäck as well as the upcoming County by Rams director Grimur Hakonarsson.