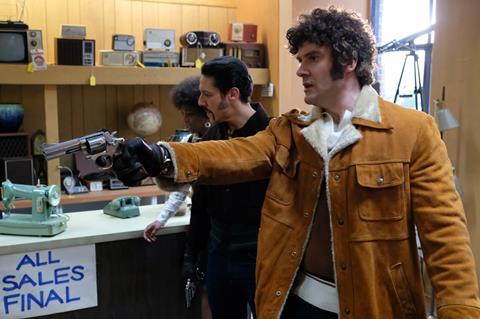 Verdi Productions has wrapped production in photography in Rhode Island on its crime drama Vault, which The Solution Entertainment Group will introduce to international buyers in Cannes.
Tom DeNucci directs Theo Rossi, Chazz Palminteri and Don Johnson from a screenplay by DeNucci and B. Dolan.
Vault is inspired by the true story of a group of small-time criminals who, in August 1975, ransacked more than 100 large safe deposit boxes at a secret bank location.
The crooks fled with duffle bags crammed full of cash, gold, silver, stamps, coins, jewels and high-end jewelry – a $30m million haul belonging to the Mafia. Burt Young and William Forsythe round out the cast.
"What happened in 1975 in Rhode Island, the smallest state in the US, made worldwide headlines and has intrigued us from the start," Lisa Wilson, co-founder and partner t The Solution Entertainment Group, said. "We are thrilled to add such a film to our Cannes slate."
"As an Italian-American from Providence, Rhode Island, I've been wanting to tell this story for many years," DeNucci said. "These events captured our collective imagination and saw the seeds of what has now become a legendary New England tale of organized crime."
Chad and Michelle Verdi produce alongside Nick Koskoff and Matthew J. Weiss. Emma Tillinger Koskoff, David Gere and Nicholas Carmona serve as executive producers.