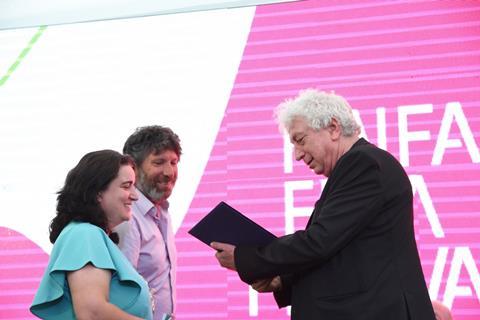 Zelda Welner's multiple-personality-disorder drama project The Speculant has won the $42,000 top prize at the 14th edition of Haifa International Film Festival's My Story pitching event.
Produced by Yael Abecassis and Hillel Roseman under their joint label Cassis Films, the storyline revolves around bright and happy 26-year-old Sophie who discovers she is the figment of the imagination of a woman suffering from post-traumatic stress disorder (PTSD).
The My Story jury comprised Claas Danielsen, head of German film fund MDM; producer Yael Fogiel from Paris-based Les Films du Poisson; Michel Plazanet, deputy director of international and European affairs at France's CNC; Polish producer Ewa Puszczynska from Opus Productions; and Israeli author Dorit Rabinyan.
Summing up, the jury said they had been intrigued by the storyline for The Speculant in "exploring the liberation from a traumatic disorder in an original artistic way".
It is the first project to win the new $42,000 Chance Grant, sponsored by industry veteran and Nu Image and Millennium founder Avi Lerner (pictured) in memory of his late producer brother Danny Lerner.
The remit of the multi-year initiative – overseen by Gesher Multicultural Film Fund and Haifa International Film Fund – is to support the development of a feature film inspiring hope for a better society.
Eliran Elya's Silence, which won the Israel Film Fund Development Award. The project revolves around a fortysomething glazier and single father who tries to block the construction of a new airport runway close to the housing development where he lives.
"It's the story of a Don Quixote who chooses his neighbourhood and family over money," commented the jury.
Like Elya's debut feature Doubtful, which won best first film at Jerusalem International Film Festival earlier this year, Silence will feature a cast of non-professional actors drawn from the milieu in which the picture is set.
Grants for trailer editing and trailer sound editing, offered by Israeli post-production companies Opus Productions and JungleSound respectively, went to Passerby and Hanging By A Thread.
Set on the Israeli-Syrian border in the Golan Heights, Passerby revolves around a Druze farmer who stumbles upon an injured Syrian soldier. His attempts to help the stricken man put him at odds with village elders, the Israeli army and his disapproving father.
It is the debut feature film of Amir Fakhreddin, and is produced by Tony Copti and Jiries Copti at Jaffa-based Fresco Films.
Hanging By A Thread follows a high-flying female prosecutor who finds her faith in the judicial system shaken by the treatment of the victim of a sex crime case in the courtroom. Filmmaker Shiri Nevo Friedental based the screenplay on her own experiences. Marek Rozenbaum at Transfax is producing.
Cinemarket award
In Haifa's separate Cinemarket industry event, aimed at features at the post-production stage, the Post Republic Post Production Services Award went to Tsivia Barkai's Red Cow about a young woman's homosexual awakening and break from the religious settler community in which she was raised.
Berlin-based Post Republic will provide up to €20,000 worth of post-production services to the work-in-progress, which is produced by Itai Tamir of Laila Films, whose recent credits include festival crowd-pleaser The Cakemaker.