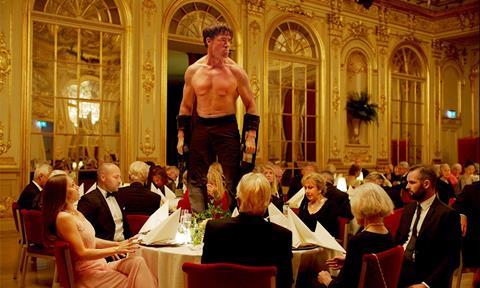 Ruben Östlund's The Square was the big winner at last night's European Film Awards ceremony in Berlin, taking six prizes for best European film, best European comedy, best director and screenwriter for Östlund, best actor for Claes Bang and best production designer for Josefin Asberg.
Other winners included Lady Macbeth, which won the European Discovery award, Communion, which was named best European documentary, and Loving Vincent, which took the European animated feature prize. Alexandra Borbély was named best actress for Berlin Golden Bear winner On Body And Soul.
SCROLL DOWN FOR WINNERS
The Square's domination on the night left little room for other contenders, but Andrey Zvyagintsev's Loveless managed to take home two awards, for cinematography and composing; Robin Campillo won best editing for BPM (Beats Per Minute); and Spoor, A Monster Calls and Brimstone all took home prizes for costumes, sound design and hair and make-up respectively.
The People's Choice Award for best European film went to Maria Schrader's Stefan Zweig - Farewell To Europe.
This year's ceremony at Berlin's Haus der Festspiele on Saturday evening was reckoned by many attending to be one of the best in the awards' 30-year history with tableaux vivants re-enacting scenes from famous European films from the last three decades – from Carlos Saura's Carmen to Ade's Toni Erdmann – as one of the show's entertaining diversions.
Running at just under three hours, the proceedings delivered their fair share of emotions. There were tears of joy from Hungarian actress Borbély and genuine delight from veteran producer Cedomir Kolar on being recognised for his achievements by the European Co-Production Award - Prix Eurimages, while husband-and-wife team Hugh Welchman and Dorota Kobiela were living proof of the spirit of European co-production in every sense when they came on stage to accept the award for European Animated Feature Film for Loving Vincent, the world's first feature-length painted animation.
Brexit
Stephen Frears apologised for "the trouble we've caused" in a reference to Brexit while Julie Delpy added more light relief by using her acceptance speech for the award for European Achievement in World Cinema by recounting the problems she was now facing in closing the gap on the financing – around €600,000 – for her next film with Daniel Brühl. Potential investors in the audience were invited to buy tombola tickets for the chance of having breakfast with her at the festival hotel's restaurant on the morning after the ceremony, and the ceremony's MC Thomas Hermanns was the first one to nab a raffle ticket.
But there were also more sombre moments. EFA deputy chairman Mike Downey drew attention once more to the plight of Oleg Sentsov and read extracts from a letter which had been sent by the Chinese artist and activist Ai Weiwei to the imprisoned Ukrainian film director, while four women producers – Rebecca O'Brien, Ewa Puszczynska, Ada Solomon and Helena Danielsson – came on stage to declare their solidarity with the #MeToo movement, which denounces sexual assault and harassment, and call for a united stand on "turning the world the right way up again".
Russian director Aleksandr Sokurov also mentioned his director colleague Oleg Sentsov when accepting his Lifetime Achievement Award from EFA chairperson Agnieszka Holland and expressed his gratitude to "all my European friends" for their support for him "in difficult times". He also paid homage to the late Polish director Andrzej Wajda as "a close friend and teacher".
While Holland expressed her pleasure at the fact that two of this year's awards had gone to young Polish women – Dorota Kobiela for Loving Vincent and Anna Zamecka for her documentary Communion – it was clear that this was mixed with misgivings about the future of Polish cinema in the current political administration.
Wim Wenders
Meanwhile, EFA president Wim Wenders' impassioned call on the European filmmaking community to make a stand against the rise of nationalism – "the oldest and worst European disease" – proved to be one of the talking points at the after-show party along with speculation about a future successor to Dieter Kosslick at the Berlinale.
"Let's stop these nationalist cheaters from stealing our European future from under our feet," Wenders declared, recalling the optimism and hopes expressed by the assembled filmmakers from East and West at the first European Film Awards in 1988.
"It matters to all of us what happens in Hungary, Poland, Russia, Turkey, the Czech Republic and we see the same tendencies growing in our own countries," he continued. "Europe is not the problem, Europe is the solution, so let's defend it with all our convictions against the simplifiers, the oligarchs, and the enemies of freedom."
Wenders suggested that the European film family would be "in a perfect position to make a difference with our stories, our imagination, our sounds, characters and images" and called on the many younger filmmakers sitting in the audience "who grew up in the digital age to use all its means, opportunities and weapons to help push Europe and its common language of cinema into the future" before finishing his speech with his rallying call of "Long live the Europe of diversity, long live our rich and free European cinema!"
Full List of 2017 EFA winners:
EUROPEAN FILM
The Square
Written & directed by Ruben Östlund
Produced by Erik Hemmendorff & Philippe Bober
EUROPEAN COMEDY
The Square
EUROPEAN DISCOVERY – Prix FIPRESCI
Lady Macbeth
Directed by William Oldroyd
Written by Alice Birch
Produced by Fodhla Cronin O'Reilly
EUROPEAN DOCUMENTARY
Communion
Written & directed by Anna Zamecka
Produced by Anna Wydra, Anna Zamecka, Zuzanna Krol, Izabela Lopuch & Hanka Kastelicová
EUROPEAN ANIMATED FEATURE FILM
Loving Vincent
Directed by Dorota Kobiela & Hugh Welchman
Written by Dorota Kobiela, Hugh Welchman & Jacek Dehnel
Produced by Hugh Welchman, Ivan Mactaggart & Sean Bobbitt
Animation: Dorota Kobiela & Łukasz Mackiewicz
EUROPEAN SHORT FILM
Timecode
Directed by Juanjo Giménez
EUROPEAN DIRECTOR
Ruben Östlund – The Square
EUROPEAN ACTRESS
Alexandra Borbély – On Body And Soul
EUROPEAN ACTOR
Claes Bang – The Square
EUROPEAN SCREENWRITER
Ruben Östlund – The Square
EUROPEAN CINEMATOGRAPHER– Prix CARLO DI PALMA
Michail Krichman – Loveless
EUROPEAN EDITOR
Robin Campillo – BPM (Beats Per Minute)
EUROPEAN PRODUCTION DESIGNER
Josefin Åsberg – The Square
EUROPEAN COSTUME DESIGNER
Katarzyna Lewińska – Spoor
EUROPEAN HAIR & MAKE-UP ARTIST
Leendert van Nimwegen – Brimstone
EUROPEAN COMPOSER
Evgueni & Sacha Galperine – Loveless
EUROPEAN SOUND DESIGNER
Oriol Tarragó – A Monster Calls
EUROPEAN FILM ACADEMY LIFETIME ACHIEVEMENT AWARD
Aleksandr Sokurov
EUROPEAN ACHIEVEMENT IN WORLD CINEMA
Julie Delpy
EUROPEAN CO-PRODUCTION AWARD – Prix EURIMAGES
Cedomir Kolar
PEOPLE'S CHOICE AWARD for Best European Film
Stefan Zweig - Farewell To Europe
Directed by Maria Schrader
Written by Maria Schrader & Jan Schomburg
Produced by Stefan Arndt, Uwe Schott, Pierre-Olivier Bardet, Denis Poncet, Danny Krausz & Kurt Stocker