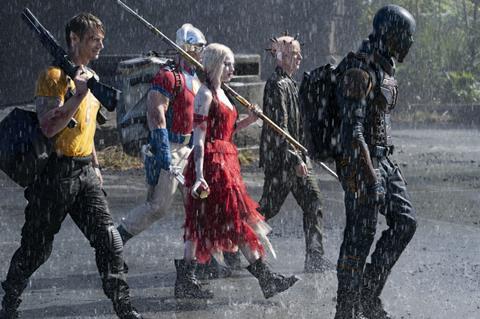 Worldwide Box Office August 6-8 2021
| Rank | Film (Distributor) | 3-day (World) | Cume (World) | 3-day (Int'l) | Cume (Int'l) | Territories |
| --- | --- | --- | --- | --- | --- | --- |
| 1 | The Suicide Squad (WB) | $61.5m | $72.2m | $35m | $45.7m | 71 |
| 2 | Jungle Cruise (Disney) | $30.7m | £121.8m | $15.1m | $56.5m | 50 |
| 3 | Raging Fire (Various) | $21.5m | $82.3m | $21.5m | $82.3m | 1 |
| 4 | Fast & Furious 9 (Universal) | £13.2m | $661.3m | $12m | $490.3m | 62 |
| 5 | Escape From Mogadishu (Lotte) | $9.5m | $16m | $9.5m | $16m | 1 |
Credit: Comscore, all figures estimates
'The Suicide Squad' hits major markets with $62m session
UPDATED: Warner Bros' The Suicide Squad expanded from a soft launch in five international markets to a full global release, delivering a lower-than-expected $26.3m in North America and a more encouraging $34.5m for international where it's now playing in 69 markets. The numbers combine to produce a $61.6m weekend, which rises to a $71.5m cumulative global total including the earlier week of release in UK and Ireland, France, Belgium, Switzerland and Turkey.
The international running total stands at $45.2m. Among new-release territories, top performer was Russia with a chart-topping $4.2m – 16% ahead of the recent launch of Black Widow. Next best was South Korea with $2.6m, landing in second place behind local hit Escape From Mogadishu. Germany ($2.2m), Mexico ($2m) and Brazil ($1.4m) also delivered solid numbers.
Among holdover territories, UK and Ireland led the field, with a confirmed $3.2m second session, retaining the top spot with a 32% drop from opening weekend. Total so far there is $10.9m. France added $1.2m in its second session, dropping 28%, and bringing the total there to $3.4m. Overall, the holdover markets achieved strong traction, dropping a slim 25%.
The Suicide Squad is released in cinemas and on HBO Max in those territories where the service operates – currently comprising US, Mexico, Latin America, South America and the Caribbean.
The James Gunn-directed DC title is a sequel/reboot of David Ayer's Suicide Squad, which opened globally five years ago with $267m, on its way to a $747m total. Clearly, the global launch of The Suicide Squad has delivered numbers far behind its predecessor – and whether that's because of Covid, the impact of HBO Max or diminished audience appetites will remain a topic for debate.
Suicide Squad spinoff Birds Of Prey opened in February 2020 with $79m – a number that was impacted by the start of the Covid pandemic in Asian markets. Final total was a disappointing $202m.
The Suicide Squad lands in Japan this coming weekend, and has eight additional markets to follow.
Warner Bros also has Space Jam: A New Legacy, which ranks seventh place in the weekend's global box office chart. International box office ($70m) has now overtaken North America ($65.6m) – and the gap should continue to widen. Latest weekend delivered $5.8m for international and $2.5m in North America.
After a relatively soft start, UK and Ireland continues to be the star international performer, delivering an estimated $1.5m in its fourth weekend of play, down 16% from the previous session. The territory leads the international league table for the Space Jam sequel, with $12.1m – ahead of Australia ($8.3m) and Mexico ($7.7m). The UK number is far ahead of the next best total for a European country: Spain, with $3.8m. The film has yet to open in Japan and Italy.
'Jungle Cruise' delivers $31m second session
Having launched a week ago with a $61.8m global debut, Disney's Jungle Cruise falls almost exactly in half for the second weekend of play, delivering $30.8m.
In North America, the film fell 55% from the opening session, with estimated second weekend takings of $15.7m. For international, the drop was a gentler 44%, and takings of $15.1m. Totals so far are $65.3m for North America, $56.5m for international and $121.8m worldwide.
The film is available simultaneously via Disney+ Premier Access.
Strongest hold for Jungle Cruise was in France (-6%) – perhaps a sign that audiences there are now rebounding, having adjusted to the need for a vaccination passport to attend the cinema. Conversely, the introduction in Italy of this system saw the film fall 70%. Other territories achieving strong holds with the film were Switzerland (-12%), plus UK and Ireland, Belgium and Netherlands (all -17%).
In cumulative totals, UK and Ireland leads the international pack for Jungle Cruise, with $8.5m. Next come Russia/CIS ($5.9m), France ($4.2m), Japan ($4.0m) and Saudi Arabia ($2.7m). Lockdowns and restrictions continue to impact – especially in Australia and Japan.
Also for Disney, Black Widow is in eighth place in the latest global weekend chart, with an estimated $8.0m, evenly divided between North America and international. Cumulative totals are $174.4m for the former and $185.4m for the latter, and $359.8m worldwide. Black Widow is the highest-grossing film of the pandemic era in North America, overtaking Fast & Furious 9 (or F9: The Fast Saga as it's known there), now on $171.0m.
'Escape From Mogadishu' makes global top 5
A strong hold for South Korean film Escape From Mogadishu saw the local hit rise to fifth place in the global rankings (see chart), as other titles – such as Black Widow and Universal's Old – drifted downwards. The action drama is set against the events of the Somali Civil War, telling the story of how staff from both the North Korea and South Korea embassies in Mogadishu came together to escape the conflict zone in 1991.
Escape From Mogadishu grossed an estimated $9.5m for distributor Lotte Entertainment in its second session, according to Comscore data. Total after 12 days of play is $16.0m.
Ryoo Seung-wan (The Battleship Island) directs, with a cast led by Kim Yoon-seok, Jo In-sung and Heo Joon-ho.
Also performing strongly in the global rankings for the weekend are China's Raging Fire (in third place – see our China box office report), and Universal's Fast & Furious 9, in fourth place. Total box office for the latter is now $661m, which is 53% of Fast & Furious 8's $1.24bn global total, and 87% of spinoff Hobbs & Shaw's $759m total.
Universal's Old is in sixth place in the global weekend chart, with $8.5m including $4.4m for international. M Night Shyamalan's film has so far grossed $26.7m in international territories, $38.5m in North America, and $65.2m worldwide.