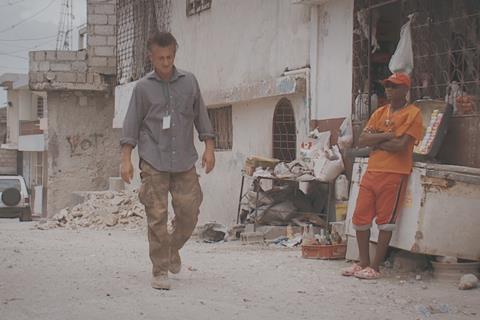 The world premieres of The Trip To Greece and a documentary about Sean Penn's relief work in Haiti, as well as the inaugural Women at Work documentary showcase are among the line-up of 115 features announced by Tribeca Film Festival on Tuesday (3).
Michael Winterbottom's The Trip To Greece reunites Steve Coogan and Rob Brydon and marks the fourth feature entry in the comedy series. It screens in Spotlight Narrative.
Don Hardy's documentary Citizen Plus screens in Movies Plus and chronicles Penn's activism and charitable work in the disaster-struck Caribbean island nation.
The US premiere of HBO's Toronto dark comedy pick-up Bad Education starring Hugh Jackman screens in Spotlight Narrative, the same section that will show the New York premiere of Judd Apatow's SXSW opening night comedy The King Of Staten Island.
Festival director Cara Cusumano and her team have also programmed a 20th anniversary screening of Mary Harron's American Psycho starring Christian Bale in Tribeca Critics' Week.
Tribeca's competition category includes 10 U.S. Narratives, 10 International Narratives, and 12 Documentary competition features. The feature line-up includes 16 films in Spotlight Narratives, 20 in Spotlight Documentaries, 17 in Viewpoints, five in Midnight, 13 in Movies Plus, six in Tribeca Critics' Week, three films as part of this year's new Women at Work section, and a family event.
Women at Work showcases documentaries that ask what it means to be a working woman today. The selections are: Girls Can't Surf by Christopher Neliusm; Picture A Scientist by Ian Cheney and Sharon Shattuck; and Women In Blue by Deirdre Fishel.
The 10 U.S. Narrative Competition selections are: Brea Grant's 12 Hour Shift; Anna Kerrigan's Cowboys; Joshua Leonard's Fully Realized Humans; Alice Wu's The Half Of It; Chad Hartigan's Little Fish; Sabrina Doyle's Lorelei; David Gutnik's Materna; Jonathan Cuartas' My Heart Can't Beat Unless You Tell It To; Andrew Irvine and Mark Smoot's No Future; and Kerem Sanga's The Violent Heart.
Competing in the International Narrative Competition are: Takeshi Fukunaga's Ainu Mosir (China/Japan/USA); Ruthy Pribar's Asia (Israel); Marité Ugás' Contactado (Peru); Jan Komasa's The Hater (Poland); Gerardo Naranjo's Kokoloko (Mexico); Bettina Oberli's My Wonderful Wanda (Switzerland); Gaspar Antillo's Nobody Knows I'm Here (Chile); Maya Cozier's She Paradise (Trinidad and Tobago); Eytan Fox's Sublet (Israel/USA); and Prashant Nair's Tryst with Destiny (India/France).
As previously announced, Tribeca will open April 15 with the world premiere of Mary Wharton's documentary, Jimmy Carter Rock & Roll President. For full details click here.