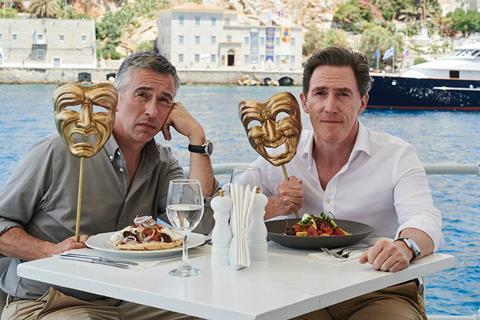 The Trip To Greece – the fourth and final film in Michael Winterbottom's The Trip franchise – has led the New Zealand box office chart after the first week since all Covid-19 restrictions were lifted.
Starring Steve Coogan and Rob Brydon and distributed in New Zealand by Madman Entertainment, the UK comedy took NZ$82,128 ($53,000) in its first seven days on 74 screens.
The top five was rounded out by Love Sarah (US$34,712), Sonic The Hedgehog ($20,868), The Assistant ($19,417) and Bloodshot ($16,159).
Total cinema box office revenue for the week was NZ$553,347 ($356,000), a 60% increase on the previous week. However this represents just 17% of takings over the equivalent week in 2019, when the gross box office was NZ$3.3m ($2.1m).
Cinemas in New Zealand were cleared to reopen on May 14, with restrictions in place, but the government celebrated being free of coronavirus on June 8 and has lifted all lockdown measures on daily life, leaving only strict border controls in place. Since then, new cases have been reported.
"With global dates for major releases still in flux, it represents a strong opportunity for independent films which are unencumbered by the need for simultaneous global launches to play an important role in cinemas," said Madman CEO Paul Wiegard.
Films set for release in the country this weekend include Justin Krook-directed documentary Machine and Irish drama Rosie. The next major releases are set to be Trolls World Tour and The High Note on July 2.
Cinemas in Australia began reopening on June 1 in South Australia, and are opening nationwide from June 22 with limited capacities.
Madman will next release documentary The Booksellers on June 25 in New Zealand and July 2 in Australia; biopic Shirley, starring Elisabeth Moss as author Shirley Jackson, on July 9 in Australia and July 16 in New Zealand; and long-awaited sequel Bill And Ted Face The Music in August in both territories.