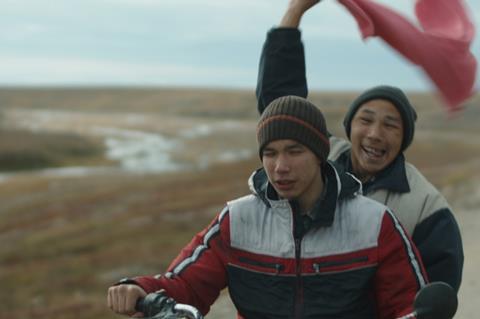 Russian director Philipp Yuryev's The Whaler Boy was awarded best film in the Roberto Rossellini Awards at this year's Pingyao International Film Festival (PYIFF, October 10-19), while Chinese filmmaker Li Dongmei's Mama took best film in the Fei Mu Awards.
The Roberto Rossellini Awards are presented to films in the festival's Crouching Tigers section (international directorial debuts or second features), while the Fei Mu Awards are for debut and second Chinese-language features in both the Crouching Tigers and Hidden Dragons sections.
The Whaler Boy received a cash prize of $20,000, with half given to the director for use in the development of their next film, and half given to the distribution company in China. The best film award for Mama came with a prize of $18,000 (RMB120,000), again split between the director and the Chinese distributor.
Best director in the Roberto Rossellini Awards went to Serbian filmmaker Ivan Ikic for Oasis, while Japan's Yujiro Harumoto picked up the Jury Award for A Balance and Israel's Ruthy Pribar was awarded with a Special Mention for Asia.
In the Fei Mu awards, best director went to Wang Jing for The Best Is Yet To Come, while Han Shuai's Summer Blur took the Jury Award. Liu Yase won best actress for Shi Xiaofan's Cafe By The Highway and best actor went to Zhou You for his performance in Wei Shujun's Striding Into The Wind.
A Yang Pingdao Film by Yang Pingdao was awarded with both the Youth Jury Award and the Cinephilia Critics Award.
A total of 12 cash and in-kind prizes were also handed out at the festival's Work-in-Progress (WIP) Lab and Pingyao Project Promotion, with Chen Guan's Sometimes It's Like Going Back To Childhood winning the top award in the WIP Lab, a $27,000 (RMB180,000) prize sponsored by Huayi Brothers.
Meanwhile, the Crouching Tiger Hidden Dragon East-West Award was presented to Chinese director Tian Zhuangzhuang, while the International Contribution to Chinese Cinema Award went to Shanghai Film Group president Ren Zhonglun. Guan Hu picked up the 2020 Award for The Eight Hundred, which has grossed $462m to become the highest-grossing film globally this year.
Now in its fourth edition, PYIFF was founded by Chinese filmmaker Jia Zhangke and former Venice festival director Marco Mueller in the ancient city of Pingyao in China's Shanxi province. This year it screened 63 films with screenings taking place physically at its purpose-built festival centre, but mostly without international guests due to China's Covid-19 travel restrictions.