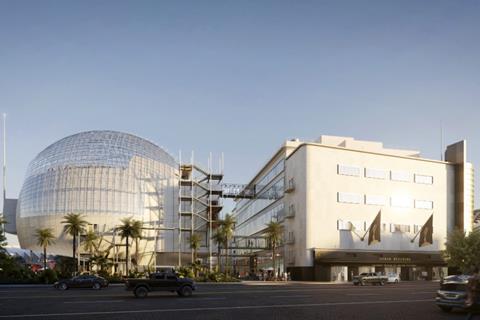 Opening day screenings of The Wizard of Oz, and ongoing series highlighting among other subjects Oscar films directed by women and live conversations are among the roster of more than 115 films and events set for the first three months of Academy Museum of Motion Pictures.
Two performances of the classic 1939 fantasy adaptation The Wizard of Oz starring Judy Garland will open the museum on September 30, with live musical accompaniment by American Youth Symphony conducted by David Newman.
The inaugural programming schedule of series include 'Stories Of Cinema' selections from the museum's core exhibition like Real Women Have Curves and The Way Of The Dragon; 'Oscar Sundays', initially celebrating female directors of such works as Barbara Kopple's Harlan County, U.S.A. and Lina Wertmüller's Seven Beauties; and Saturday family matinees.
The 'Legacy' discussion series kicks off with Laura Dern in conversation with her parents Bruce Dern and Diane Ladd; while 'In Conversation' launches with Effie T. Brown and Heather Rae discussing how to contextualise cinema.
Among special series and standalone in-person screenings are retrospectives and career focuses on Jane Campion, Satyajit Ray, Hayao Miyazaki, Haile Gerima, and Anna May Wong; Malcolm X in 70mm with guests Spike Lee and Denzel Washington scheduled to attend; the 'Oscar Frights' selection of winners and nominees such as Get Out and Psycho; and a celebration of female composers including Oscar winner Hildur Guðnadóttir's Joker and Wendy Carlos's Tron.
Ongoing virtual programmes leading up to opening day include a conversation with Spike Lee and Shaka King, and a 20th Anniversary screening of Y Tu Mamá También with Alfonso Cuarón in conversation with his regular cinematographer Emmanuel "Chivo" Lubezki.
Future programmes set to launch in early 2022 include screenings of the works of Spike Lee and Pedro Almodóvar; masterpieces from the Golden Age of Mexican Cinema; and Branch Selects – Academy member-curated screenings that explore craft and scientific areas of film production.