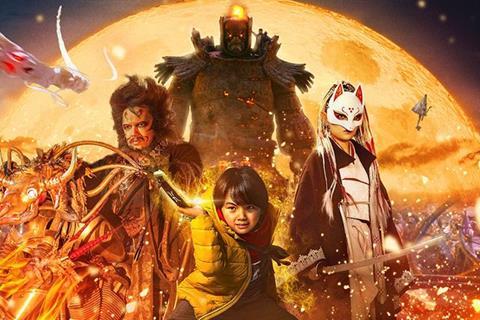 Takashi Miike's The Great Yokai War – Guardians will close Fantasia International Film Festival (August 5-25), which festival heads have turned into a hybrid event after adding a limited roster of in-person screenings in Montreal.
Japanese horror specialist Miike's sequel to his family fantasy epic and Fantasia 2006 opener The Great Yokai War gets its international premiere and centres on a battle between Japanese monsters that will determine the fate of the world.
Paul Andrew Williams's (London To Brighton) UK crime thriller Bull is among world premieres in a final wave of titles announced on Wednesday (July 21) and stars Neil Maskell (Kill List) as a gang enforcer who goes after the people who double-crossed him.
The roster includes The Devil's Deal, Lee Won-tae's South Korean police thriller that marks his first film since Cannes 2019 selection The Gangster, The Cop, The Devil; Vincent Grashaw's Southern Gothic horror What Josiah Saw from the US starring Robert Patrick and Nick Stahl; and Rueben Martell's indigenous horror Don't Say Its Name.
Among selections receiving their North American premiere are Rob Jabbaz's Taiwan-set pandemic horror The Sadness; Japanese anime fantasy and Annecy selection The Deer King from Masashi Ando and Masayuki Miyaji; and John Swab's crime family saga Ida Red from the US starring Josh Hartnett, Frank Grillo, and Melissa Leo.
Argentinean director Daniel de la Vega's On The 3rd Day gets its international premiere and stars Mariana Anghileri as a woman trying to find her missing son.
Fantasia events include a masterclass with Dr. Caligari director Stephen Sayadian, a lifetime achievement award to stop-motion artist Phil Tippett (Stars Wars, Jurassic Park), and career achievement award to writer, director and video artist Shunji Iwai (April Story), whose latest film The 12 Day Tale Of The Monster That Died In 8 plays in the festival's Camera Lucida section.
All films will screen on Fantasia's portal which is geo-blocked within Canada.
As previously announced, the world premiere of Julien Knafo's Quebecois "zom-com" Brain Freeze will open the 25th anniversary edition of the festival on August 5, and James Gunn's The Suicide Squad from Warner Bros will play as a special screening on the eve of the festival on August 4 prior to its US launch in cinemas and on HBO Max two days later.