The Stephen Hawking biopic is closely tailed by Birdman.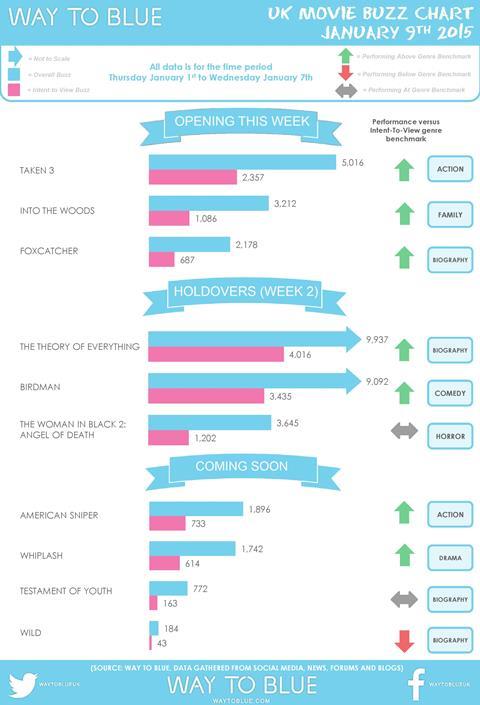 The Theory of Everything and Birdman tied at the BAFTAs today, both securing 10 nominations, and came close to a draw on social media too, according to Way To Blue.
Ahead of the announcement, Stephen Hawking biopic The Theory of Everything starring Eddie Redmayne and Felicity Jones generated more than 9,900 comments of which 40% expressed an intent to view.
Hot on its tail was awards favourite Birdman, starring Michael Keaton, which drew close to 9,100 comments. Some 38% indicated they would convert comments into tickets.
Of the films released this weekend, action sequel Taken 3 generated the most interest with more than 5,000 comments of which nearly half expressed an intent to view.
Disney musical Into The Woods and drama Foxcatcher trailed with 3,212 comments and 2,178 comments respectively.
Of the films coming soon, Clint Eastwood's American Sniper and Damien Chazelle's music drama Whiplash came top with 1,896 comments and 1,742 comment respectively.