First image revealed from the home invasion thriller, starring Kaya Scodelario (Skins) and handled by Altitude.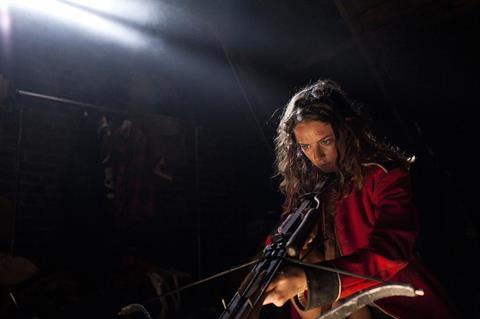 Shooting has begun on home invasion thriller Tiger House, starring Kaya Scodelario, best known for her role in TV drama Skins.
Directed by theatre director Thomas Daley, it is produced by Glass Man Films and Tiger House Film SA.
Altitude Film Sales in handling international sales and will debut footage in Cannes.
It is set in the UK but is being shot in Cape Town, South Africa.
Scodelario plays Kelly, a teenager who fights back after an armed gang break into her boyfriend's home and take him and his family hostage.
The cast also includes Ed Skrein, star of iLL Manors and the upcoming Transporter 4, and Dougray Scott.
Daley is a former assistant director at the Royal Shakespeare Company, associate director at the Royal National Theatre and has also directed opera for the English Touring Opera.
Tiger House is the first film by to be produced by Glass Man Films, comprised of producers Richard Mansell (Only Lovers Left Alive) and Tarquin Glass, in partnership with South African producer Ronnie Apteker (Material).
Executive producers are Tendeka Matatu for Ten10 Films, Will Clarke, Andy Mayson and Mike Runagall for Altitude, and Gary Millner.
Financing is provided by South Africa's Industrial Development Corporation, and UK's Creativity Capital.
The film is set for completion in late 2014.
The first acquisitions of Tiger House were by ZDF Enterprises (German-speaking Europe) and Gulf Film (Middle East).