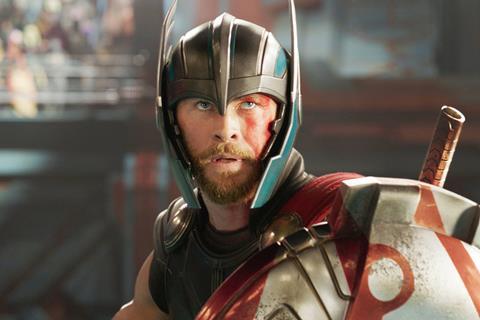 Marvel Studios' Thor: Ragnarok takes $153.7m from 55 territories, as the Marvel Cinematic Universe crosses $13bn worldwide.

WALT DISNEY STUDIOS MOTION PICTURES INTERNATIONAL
UPDATED: Thor: Ragnarok opened in Germany, Russia, Mexico, China and Japan day-and-date with North America over the weekend, generating $153.7m internationally to reach $431.1m worldwide. The third instalment of the Thor franchise is now open in virtually all markets.
The god of thunder debuted at number one in China on $56.3m, making it the biggest industry opening weekend ever for a November release. The opening weekend comes in ahead of Guardians Of The Galaxy Vol. 2 and Doctor Strange, while already exceeding the entire lifetime total of Thor: The Dark World.
Mexico generated $10.6m, ahead of Doctor Strange. Germany produced $8.8m, India $5.5m, Japan $3.5m, and Russia $3.7m.
Latin America and Europe saw overall regional drop-offs of just 30% and 36% respectively. In second weekends across Europe, the tentpole stayed top in France, Italy, Spain, Sweden, Belgium, Bulgaria, Czech Republic, Denmark, Latvia, Netherlands, Norway, Poland, Portugal, Iceland and South Africa.
The film ranks number one in Australia, Hong Kong, Indonesia, South Korea, Malaysia, New Zealand, Philippines, Singapore, Taiwan and Vietnam.
At this point in release, Disney estimates that Thor: Ragnarok is tracking 8% ahead of Guardians Of The Galaxy 2, 28% ahead of Doctor Strange and 59% ahead of Thor: The Dark World, all at current exchange rates. At current exhange rates Guardians Of The Galaxy 2 earned $481m internationally, while Doctor Strange earned $456m internationally. Top markets for Thor: Ragnarok are China on $56.3m, the UK on $27.3m, South Korea on $25.7m, Brazil on $19m, and Australia on $15.6m.
Thor: Ragnarok earned $13.2m from IMAX international box office, led by $6m from 446 screens in China. The Marvel Cinematic Universe has now earned more than $13bn globally, spanning 17 releases.
Pixar's Coco opened in Mexico last weekend ahead of the Day of the Dead holiday. Pixar's latest animation generated a further $10.8m for a running total of $28m. Disney executives report that Coco has earned more in its first 10 days in Mexico than any other animated film has ever done. Coco opens in the US and additional international territories beginning November 22.
WARNER BROS PICTURES INTERNATIONAL
UPDATED: Geostorm grossed $18m from 65 territories, bringing the international tally to $154.3m. France generated $1.7m, including previews, from 303 screens, outpacing London Has Fallen, Into The Storm, and Olympus Has Fallen. Italy produced $1.1m, while China generated $7.7m in week two, ranking number two and bringing the total there to $57.4m. China is the top market, followed by Russia on $9.7m, Mexico $8.2m, South Korea $7.5m, and Taiwan $7.1m.
Warner Bros horror smash It grossed $5m from 38 markets still in release, bringing the running international total to $351.6m, and taking the worldwide tally to $677.5m. Pennywise scared audiences in Japan to the tune of $2.5m, ranking number two. Andy Muschietti's horror earned $1.2m in Italy for $16.8m. The UK remains the top market on $42.5m, followed by Germany $34.8m, and Mexico $27.6m.
SONY PICTURES RELEASING INTERNATIONAL
UPDATED: Blade Runner 2049 took in $5.1m this weekend from 61 markets for $155m internationally. Japan delivered $1.1m for $6.1m in its second session. The Emoji Movie added $2m from 35 markets for an international total of $128.7m. France held well in its third weekend, down only 10% to produce$1.3m for a market total of $5m.
FOX INTERNATIONAL
UPDATED: Debuting in the UK a week ahead of the US and 57 international markets, Agatha Christie whodunnit Murder On The Orient Express is in the number one position after earning $6.6m from 616 locations. This Friday-through-Sunday opening weekend outperformed The Great Gatsby by 41%, Gone Girl by 34%, and Girl With The Dragon Tattoo by 11%. Murder On The Orient Express will debut in 57 markets next weekend, including China, Australia, Germany, Russia, and Mexico.
Kingsman: The Golden Circle delivered $4.7m from 7,586 screens in 28 markets, taking the international total to $291.2m. Japan is the final international market to release on January 5. The Mountain Between Us added $2.1m from 25 markets. Brazil generated $912,000 in its first weekend, lifting the international tally to $19.8m. The survival drama will be released in France this week.
Captain Underpants: The First Epic Movie grossed $2m from nine markets for $49.5m. Italy, the final market to release, generated $1.3m.
LIONSGATE INTERNATIONAL
Jigsaw earned a further $13.7m from 62 markets, elevating the international total to $30.7m after two weeks. Italy led the way on $2.2m on 268 screens, far exceeding the opening weekend of Saw 5, and Saw 6 based on local currency. France generated $1.9m in week one, surpassing Saw 5 by 27%, and Saw 6 by 20%, when comparing opening weekends.
Australia generated $773,000, ranking number three, while South Korea earned $611,000. The UK remains the top market on $4.7m after two sessions. Russia follows closely behind on $4.2m, followed by Germany on $3.6m, Italy 2.2m, and Venezuela $2.1m. Japan and Mexico will release the horror this week.
My Little Pony: The Movie added $2.4m from 67 markets, pushing the international total to $26.3m. The animation debuted in Australia on $353,000. The UK is the top grossing market on $4.3m after three weeks.
STXinternational
STXinternational opened A Bad Moms Christmas in 15 territories including UK, Australia, New Zealand, Norway, Sweden, and Poland for an estimated $6.67m session from 1,410 locations.
The sequel is performing 13% ahead of the 2016 original in the same territories and took $2.4m in the UK, roughly 21% ahead of Bad Moms. Australia generated $3m to perform 5% ahead of the original. A Bad Moms Christmas debuts in Germany this week. The first film reached $72m international by the end of its run.
UNIVERSAL PICTURES INTERNATIONAL
UPDATED: Universal and Blumhouse's Happy Death Day opened in seven territories over the weekend for a total of 46 territories in release. The live-die-repeat horror earned $2.8m over the weekend for a total of $25.6m. With $52.9m from North America, the worldwide total is $78.5m. Panama generated $241,000 in its first week for second place, while Mexico held at number four on $340,000, for a total of $1.6m after two weeks. There are 16 territories left to open, starting with Italy, South Korea and three others this week.
Universal and Working Title's The Snowman added $1.9m from 39 territories this weekend for an international total of $28.2m, and a worldwide total of $34.7m. Michael Fassbender's crime thriller debuted at number three in the Netherlands on $294,000. Germany is the top holdover on $601,000 for a total of $4m. The film opens in Hong Kong this week.
Victoria And Abdul grossed $1.7m from 42 territories over the weekend for an international total of $37.1m, and a worldwide sum of $57m. The historical drama debuted in Denmark on $217,000, enough for fourth place in the market. Taiwan generated $84,000 for sixth place, Malaysia produced $21,000, while Italy is the top market for the weekend on $761,000 for $2.3m. There are 13 territories to open, starting with Paraguay, Singapore and Uruguay this week.
Marrowbone, a thriller from Spain, was released by the Universal team there last weekend. The film is holding at number two after adding a further $1.2m, a 7% increase over last weekend. The film stands at $3.5m after 10 days. French Comedy Daddy Cool, which Universal acquired for France, opened Wednesday earning $1.1m from 254 dates.
Universal and Cross Creek's American Made grossed $849,000 from 31 territories this weekend for an international total of $82.1m. Combined with North America's total of $50m, the worldwide total stands at $132.1m. Tom Cruise's action comedy had its final theatrical release in Argentina on Thursday, where it debuted at number four on $217,000. Japan produced $470,000 in week three for $5.5m.