EXCLUSIVE: A Christmas Miracle was in the works before the British filmmaker died in 2012.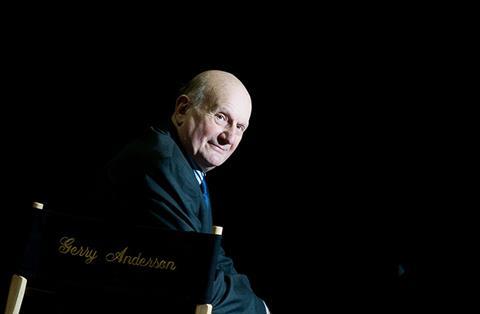 The last feature film project from the late Gerry Anderson - creator of Thunderbirds, Captain Scarlet and Joe 90 - is in advanced development and may move into pre-production later this year.
The $46.5m (£30m) computer animated feature, titled Gerry Anderson's A Christmas Miracle, was first hatched by the British filmmaker in 2004. Anderson died in 2012.
"It was his baby," said his son Jamie Anderson, who is producing the film through family company Anderson Entertainment alongside Mark Sherwood.
The original version of the screenplay was completed around 2006. Heavyweight screenwriter Stuart Beattie (Pirates Of The Caribbean: The Curse of the Black Pearl) is now in talks to rework the screenplay.
Executive producer is Daniel Pickering and director Mark Woollard, who worked on the 2005 CGI reboot of Captain Scarlet. Veteran producer Iain Smith has been "helping and assisting" on the project.
Some 65% of the budget is repotedly already in place.
"In February 2013, just a couple of moths after dad had died, we started mulling over what we were going to do with it," Anderson told ScreenDaily of the decision to revive the project.
The film, billed as a "sci-fi British Christmas adventure," is about a small group of aliens who land in the British countryside. The extraterrestrial visitors have only one request for the locals: "Bring us Santa Claus!"
"We've been slowly working on it, talking to various parties and gathering support and enthusiasm for it," said Anderson.
"It's reached the point where we are ready to push forward and try to get the thing into pre-production."
The producers are in talks with sales agents and are also looking to attach major voice talent to the film.
Thunderbirds "disappointment"
The producer promised that A Christmas Miracle will be different to the ill-fated, live-action adaptation of Thunderbirds in 2004, which used Anderson's classic characters but was a major disappointment to the show's creator, according to his son.
"He was not involved in the 2004 Thunderbirds movie at all," said Jamie Anderson. "I think that was one of its biggest failings - not really to take into account the sensibilities and aims of its original creator."
By contrast, the producer said A Christmas Miracle will stay "very, very true" to his father's "aims and spirit".
The aim was always to make the project as a feature film rather than for TV. "The unique style and Anderson feel is something we can get across through a feature film and theatrical release. The reach will be far greater. People need some Gerry Anderson in their lives."
A Christmas Miracle will be presented to investors alongside other new projects from Anderson Entertainment at a special event hosted by the company alongside Goldfinch Pictures alongside Nyman Libson Paul at the BFI Southbank on 4th March.
The other Anderson projects looking for SEIS funding are TV series Firestorm, based on a concept by Gerry Anderson, and low budget, live action, sci-fi drama Terminus Delta.
UK broadcaster ITV is set to launch a revamped, CGI version of Thunderbirds 50 years after its debut, featuring Gone Girl star Rosamund Pike as the voice of Lady Penelope.
Thunderbirds Are Go! is produced by ITV Studios and New Zealand based Pukeko Pictures in association with Lord of the Rings VFX specialists Weta Workshop.